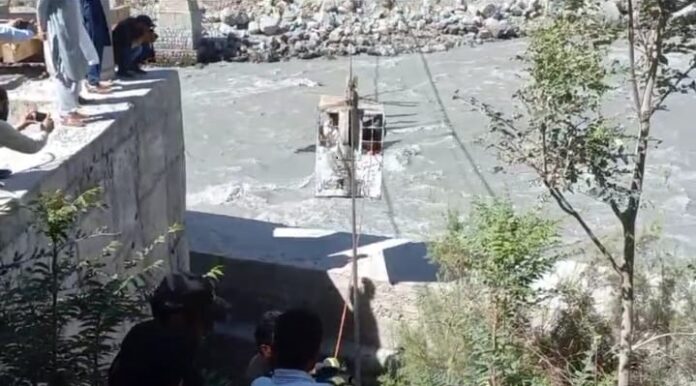 Gul Hammad Faruqui
In the Koragh area of the Upper Chitral district, three individuals found themselves stranded on a chairlift above the Chitral River. Upon receiving information about the trapped individuals, the disaster response team from Rescue 1122 swiftly arrived at the scene.
With utmost professionalism, the Rescue 1122 Disaster Team initiated rescue operations. Using specialized equipment and techniques, Rescue 1122 personnel descended on a broken rope using a harness and secured the chairlift with a new rope.
Once the chairlift was safely secured, the rescue team carefully maneuvered it back to the riverbank. All three trapped individuals were successfully rescued by the efforts of Rescue 1122.
Also Read: Imran Khan's Sentence Suspended-Legal Twist
Preliminary reports indicate that the incident was caused by a broken rope. The entire Rescue 1122 operation lasted 45 minutes and resulted in the safe rescue of the individuals.
Notably, a recent incident in Tehsil Allai of Battagram district involved a chairlift suspended mid-air due to a snapped cable, leaving eight people stranded. A collaborative effort by the Pakistan Army, Rescue 1122, and local volunteers led to their safe rescue after a 14-hour operation.
Following the chairlift incident in Battagram, authorities arrested the owner and operator of the chairlift. Consequently, numerous local chairlifts have been temporarily closed across several districts of Khyber Pakhtunkhwa. This closure has posed transportation challenges for local residents.
Hits: 11