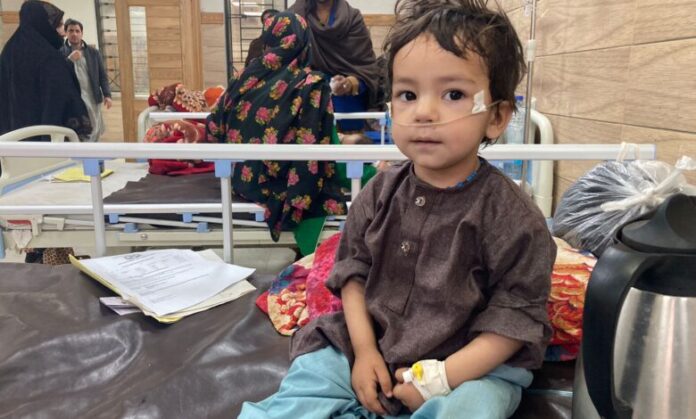 Aziz Sabawun
Many of the Balochistan flood affected areas are witnessing outbreak of water borne diseases due to the stagnant standing water.
The floods have affected 28 out of 34 districts of the province and authorities have launched rehabilitation work in many of the areas. However, Sibi, Turbat, Jaferabad, Suhbatpur, Usta Muhammad and other areas are facing water diseases outbreak including diarrhea, dengue and malaria.
Fazl Rehman, who recently recuperated from malaria, said that he visited Turbat for a day, where he contracted malaria. The weather was very hot, mosquitoes were also abundant and no proper arrangement for food, he said. He said that about a week later he developed fever and medicines prescribed by a doctor did not work.
"I remained in a hospital for three days due to my worsening condition," he said.
Dr Abdul Karim, a doctor at the Civil Hospital Quetta told TNN that malaria was endemic in those areas without proper sanitation. "Many of the flood affected areas faced malaria, diarrhea and typhoid outbreaks," he said.
MSF report points to malaria risk in flood affected areas
Earlier this month, Doctors without Borders in a report stated that they witnessed malaria rates of 50 per cent during December in people screened in our mobile medical clinics.
MSF said that despite the colder season, when malaria rates would be expected to decline and its teams have treated more than 42,000 patients for the disease since October.
On the other hand, Jamal Shah, an official of Balochistan health department said that government was providing facilities to malaria patients in flood affected areas.
However, he said that malaria patients required great care and they were lacking in all required facilities. "Kits, mosquito nets and anti-malaria tablets were in great demand and supply was short," he said.
Besides, Jamal said that after the floods struck, the greatest problem they faced was providing required number of anti-malaria medicines to people. "This issue was the same all over the country," he said.
He said that Pakistan received little anti-malaria medicines, kits and mosquito nets despite its appeal.
On the other hand, doctors point towards children vulnerability to malaria as compared to adults. Besides, lack of facilities and malnutrition exacerbated this issue.
MSF report said that they have screened 28,313 children for malnutrition in mobile medical clinics in Balochistan and Sindh. "Of those screened, 23 per cent or 6,489 had severe acute malnutrition and 31 per cent or 8,738 had moderate acute malnutrition," the charity said.
Hits: 13