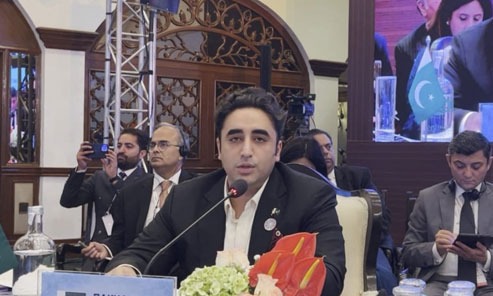 Foreign Minister (FM) Bilawal Bhutto Zardari says that under the leadership of Imran Khan, Tehreek-e-Insaf has crossed every red line, stressing that all the institutions and courts should implement the law, otherwise the country will not be able to run.
Bilawal Bhutto Zardari, while holding a press conference at Bilawal House in Karachi, said that Imran Khan was arrested under the law and constitution, on which Tehreek-e-Insaf should have called for a peaceful protest while being a political party. But Tehreek-e-Insaf had already decided and implemented that their reaction would not be of a political party but of a militant party, there is no example of their attacks, he added.
According to Bilawal Bhutto, PTI attacked GHQ after Tehreek-e-Taliban Pakistan, similarly, BLA attacked Ziarat Residency in Balochistan and PTI attacked Jinnah House in Lahore.
Also Read: 7 killed and over 100 injured in PTI protests over Imran Khan's arrest in Khyber Pakhtunkhwa
Bilawal Bhutto said that as a political party, they would basically avoid getting involved in any discussion regarding the ban on PTI. But with the sequence of events, we may have to go in this direction. Our leader was hanged, and our workers burnt themselves but did not damage government property. Even Benazir Bhutto could have done revenge politics in 1986, but she did not lift a stone, he reminisced.
Bilawal Bhutto Zardari said that the path of democratic struggle was adopted by his party while giving a political response to the martyrdom of Ms. Benazir Bhutto. Instead of revenge, democracy was called the best revenge.
Bilawal Bhutto Zardari said that in such a case that when you come down on rebellion on 8 days remand and are guilty of terrorism, then you have to decide what will be your future as a political party.
Referring to Tehreek-e-Insaf's recent violent response, Bilawal Bhutto indirectly cautioned that a political terrorist like Punjab's Altaf Hussain was being produced, but his earlier warnings had gone unheeded. He refrained from mentioning Imran Khan by name.
According to Bilawal Bhutto Zardari, the then Cabinet approved the transfer of 190 million pounds to Malik Riaz, instead of using it for the Benazir Income Support Program or the rehabilitation of flood victims.
Bilawal Bhutto has raised concerns about the role played by Tehreek-e-Insaf in this matter and believes that they should be held accountable. He has also questioned what would happen if he and his party were involved in a similar situation and emphasized that accountability should be a two-way street for all political parties.
Hits: 3