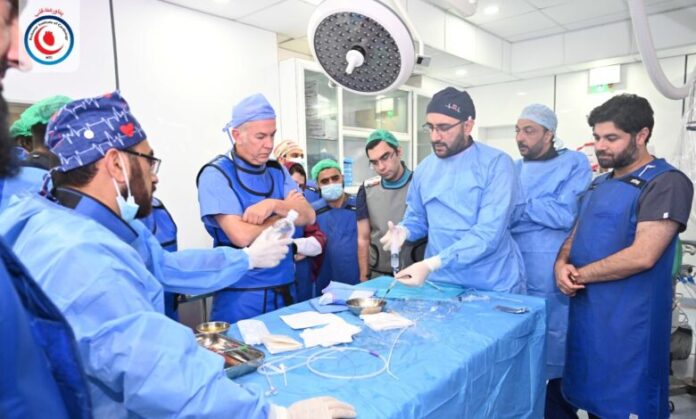 In a remarkable medical achievement, the Peshawar Institute of Cardiology (PIC) has conducted a groundbreaking procedure aimed at safeguarding heart disease patients from strokes. This pioneering effort, the first of its kind in Pakistan, introduced a cutting-edge device technology designed to protect cardiac patients from the risks of stroke.
The collaborative endeavor brought together the skilled cardiologist team at the Peshawar Institute with an esteemed cardiologist from the United Kingdom. Their dedication and expertise culminated in a successful operation involving the implantation of a state-of-the-art device into the heart of a 71-year-old female patient at PIC.
Professor David Hildick Smith, a distinguished British doctor, expressed his astonishment at the capabilities of the PIC and the successful completion of this intricate procedure in a Pakistani government hospital. He remarked that this represents a transformative moment for Pakistan's healthcare, holding the potential to save numerous lives through this groundbreaking technology.
Also Read: Massive Cheating Network Exposed in KP MDCAT Exams
Dr. Waleed, a member of the cardiology operation team, shed light on the procedure's significance. Heart patients with irregular heartbeats face an elevated risk of developing blood clots. These clots tend to accumulate in the left atrial appendage (LA appendage), a specialized section of the heart, thereby increasing the likelihood of strokes.
To mitigate this risk, patients are often prescribed blood thinners. However, this can lead to potential bleeding complications in various sensitive areas of the body. The LA appendage closure device emerges as a promising solution for individuals grappling with these challenges.
Professor Dr. Shahkar Ahmed Shah, the Medical Director and Chief Executive of PIC, lauded the tireless dedication and collective efforts of their medical professionals and management, emphasizing that this successful case exemplifies their commitment to bringing cutting-edge international technology and treatment methods to PIC.
He reiterated their determination to elevate PIC to global standards, ensuring that patients from across the province and throughout Pakistan no longer need to seek medical care abroad.