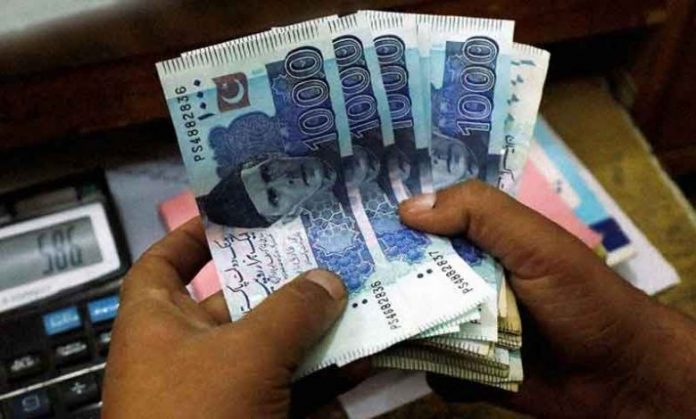 Abdul Hakim Mohmand
The interim budget of Khyber Pakhtunkhwa (KP) has allocated over 35 billion rupees for the salaries and pensions of government employees. It includes a proposal to increase the secretariat allowance by 100 percent. However, experts express concern that this increase will add to the financial burden faced by the provincial treasury, which is already in a crisis.
According to the budget document, there is a proposed 35 percent salary increase for employees in Grades 1 to 16 and a 30 percent increase for employees in Grades 17 to 22.
Bakhtullah Khan, the Supervisory Finance Adviser of KP, explained in a press conference that the budget only includes a proposal for a 100% increase in the secretariat allowance, which was previously at 50% for secretariat employees.
Also Read: Caretaker Provincial Cabinet Approves Expenditure Estimates for Next Financial Year
Dr. Fazal Wahid, an Assistant Professor of the Economics Department at Islamia College University, criticized the decision of the caretaker government. He believes that granting a 100% salary increase to employees of certain departments while ignoring others is unfair. Dr. Wahid pointed out that such a decision can create disparities and a sense of inequality among employees.
Regarding the impact on the province's economy, Dr. Wahid told TNN that the Khyber Pakhtunkhwa government already struggles to pay salaries, and the additional burden of billions of rupees will worsen the financial crisis.
Dr. Fazal Wahid labeled this government decision as anti-people, suggesting that the burden on the provincial treasury should be met through increased taxes on the public. He expressed concern that there are no new policies in the budget to address this issue, and imposing more taxes may be difficult for the people to bear.
Amin Khan, president of All Attached Department Officer Associations, strongly criticized the secretariat allowance, accusing the caretaker government of unfair treatment.
He argued that employees in the directorate have been neglected while those in close proximity to the caretaker government have received rewards. This disparity has caused anxiety and a sense of inferiority among directorate employees. Amin Khan emphasized the need for a directorate allowance to be included in the budget, considering the challenging economic conditions.
TNN approached Gul Sattar Khan, a common citizen, for his opinion on the budget. He expressed disappointment, stating that there are no provisions in the budget that address the needs of the general public.
He highlighted the difficulties faced by the poor in affording basic food items such as flour, pulses, and sugar. Gul Sattar Khan criticized the government for prioritizing salary increases for employees while neglecting the concerns of the impoverished population.
Hits: 29