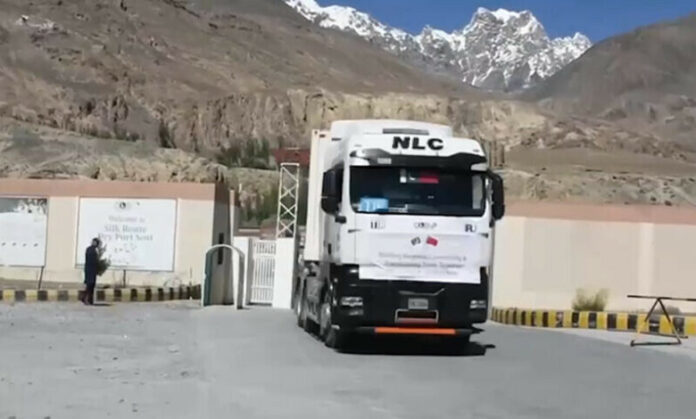 China's inaugural cargo destined for Afghanistan has embarked on its journey from Kashgar, commencing a route that will traverse the Khunjerab border before reaching Kabul.
It is noteworthy that Pakistan Customs recently facilitated the movement of cargo from China to Afghanistan, marking the first instance of this under the Transports Internationaux Routiers (TIR) Convention. This convention establishes a seamless and cost-effective trade route among nations across the globe.
Zia ul Haq Sarhadi, President of the Frontier Customs Agents Association, informed TNN that the consignments en route to Afghanistan from China will pass through Pakistan. This development is poised to not only amplify the magnitude of trade regionally but also generate substantial livelihood opportunities for individuals engaged in customs clearance, transportation of goods, fuel trade, daily wage labor, and more.
Also Read: Week-Long Protests Sweep KP Over Soaring Electricity Bills
Significantly, this transit pathway is projected to reduce travel time by approximately 70%, thus also resulting in an estimated reduction of over 30% in logistics expenses.
Sarhadi, in addition, remarked that the current flow of bilateral and transit trade between Pakistan and Afghanistan requires correction. The incorporation of Chinese cargo into this commerce equation is anticipated to invigorate trade endeavors within the region. He highlighted that a significant number of customs clearance agents had experienced dwindling incomes due to contracting business activities. However, this development promises fresh prospects for them to recuperate their losses.
Zia Sarhadi, also the Director of the Pak-Afghan Joint Chamber of Commerce and Industry (PAJCCI), underscored that China's utilization of the Silk Route for transporting its cargo to Afghanistan serves the dual purpose of facilitating the early operationalization of the China-Pakistan Economic Corridor (CPEC) project, ultimately benefiting both nations.
He expressed appreciation for the commendable efforts undertaken by Pakistan Customs to streamline the process of clearing goods from China to Afghanistan through the Sost border, leveraging the Transport Internationaux Routiers (TIR) Convention.
Hits: 18