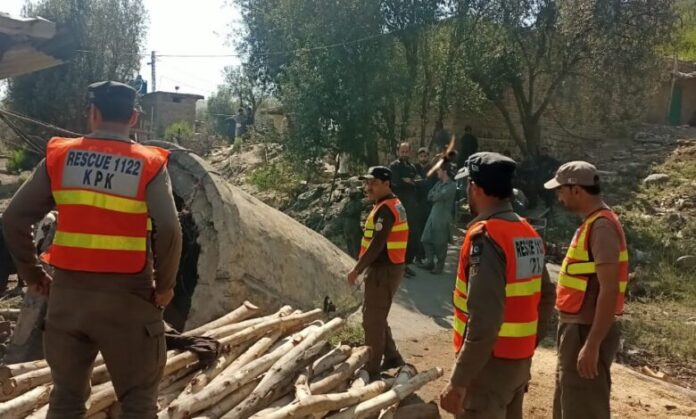 Basit Gilani
A devastating gas explosion has once again rocked a coal mine, this time in the Orakzai tribal district, resulting in injuries to 11 miners. Bilal Faizi, the Emergency Officer of Rescue 1122, confirmed the occurrence of a gas explosion at the Al-Hussaini Coal Mine in the Karez area.
In a swift response, an emergency team rushed to the scene, where they collaborated with local residents to extricate the injured miners from the mine. The injured miners were then promptly transported to a nearby hospital for medical attention.
Assistant Commissioner Hamza Abbas provided reassuring updates on the condition of the injured miners, stating that their treatment is progressing well, and their lives are no longer in danger. He commended the swift actions taken by both local residents and the rescue team. The explosion is attributed to a buildup of gas within the mine.
Also Read: Tragedy Strikes on Wedding Day as Groom Fatally Shoots Bride in Mardan
The rescue operation, expertly led by DPO Orakzai Salahuddin Kundi, successfully concluded with the safe transfer of the injured miners to the local hospital. Among the wounded, five hail from Orakzai, while the remaining six belong to Shangla district.
Bilal Afridi, representing the disaster and medical team of Rescue 1122 Orakzai, promptly responded to the accident site. The tragic incident unfolded at Lower Orakzai's Doli Karez Mine No. 10, where 11 diligent workers were diligently rescued by the efforts of Rescue 1122 and subsequently transported to the nearest hospital.
The miners involved in the incident are identified as Arab Hussain (son of Syed Noor Akbar), Siraj Hussain (son of Syed Iqbal Hussain), Bakhtiaruddin (son of Reayat Khan), and Mubeen Shah (son of Lalman Shah) from Orakzai, as well as Haider Ali (son of Sabz Ali), Shahid Alam (son of Gul Hassan), Shajahan (son of Khanzada), Hafeezullah (son of Syed Faqir), Irshadullah (son of Muhammad Rehman), Habibzada (son of Gulbar), and Inayat Khan (son of Ajar) from Shangla. The arduous rescue operation was successfully executed.