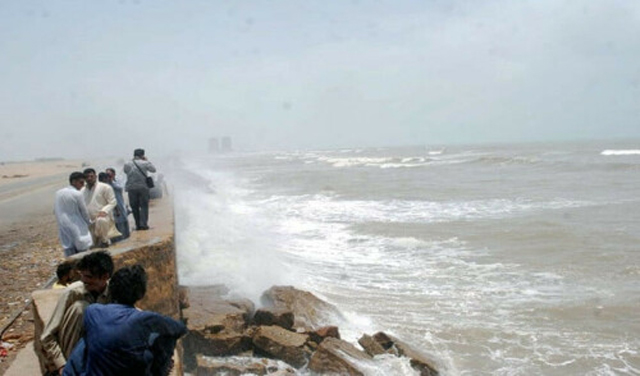 Cyclone Biparjoy is expected to make landfall in Keti Bandar this afternoon, according to the National Disaster Management Authority (NDMA). As a precautionary measure, 81 thousand individuals have been safely relocated to secure locations in Sindh.
NDMA reports that Biparjoy has been moving northeastward for the past six hours and is currently located 247 km south of Karachi, with a distance of 178 km from Keti Bandar.
The cyclone's center and periphery are experiencing wind speeds of 160 km per hour, while the sea surrounding the storm's center is extremely rough, with waves reaching up to 30 feet.
Also Read: Thirteen workers trapped as coal mine roof collapses in Orakzai district
NDMA emphasizes that the likely impacts of the cyclone include strong winds, heavy rainfall, and potential flooding. Concerned agencies are on high alert, and citizens are advised to contact the relevant administration in case of emergencies.
The districts of Tharparkar, Badin, Thatta, and Karachi Division are expected to be most affected by the cyclone. As per the Provincial Disaster Management Authority (PDMA), over 81 thousand people have already been shifted to safe locations, and dewatering machines with staff have been deployed in sensitive areas across Sindh.
PDMA Sindh has established approximately 75 relief camps in coordination with local administrations. These camps are providing food and medical facilities, and all relevant institutions are on high alert to respond to the potential impact of the storm.
Hits: 8