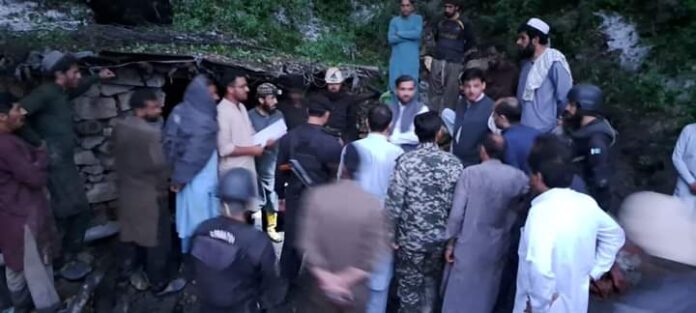 Basit Gilani
Thirteen workers found themselves trapped when the roof of a coal mine in the Khadizai area of Orakzai district collapsed, triggered by heavy rainfall. The incident occurred, leaving the workers buried under debris.
Bilal Afridi, the emergency officer of Rescue 1122 in the Orakzai district, confirmed that 13 laborers were inside the mine at the time of the collapse. Fortunately, the rescue team managed to pull out 10 workers who received immediate medical attention. However, efforts are still underway to rescue the remaining three workers who are believed to be trapped inside the mine.
Also Read: Policemen Sentenced to Life Imprisonment for Student's Murder in Peshawar
Deputy Commissioner Tayyab Abdullah reported that the evacuation operation had been initiated, involving the collective efforts of Rescue 1122, administrative officers, and military personnel.
He attributed the unfortunate incident to the heavy rainfall in the region. The Deputy Commissioner further stated that other administrative and police officials are present at the site to oversee the operation.
To expedite the rescue operation, Additional Deputy Commissioner Shahbaz Khattak, Assistant Commissioner Imtiaz Ali Shah, and relevant officers are supervising the efforts. Every possible measure is being taken to ensure the safe recovery of the workers. So far, the rescuers have managed to clear 100 feet of the mine, with approximately 250 feet remaining to be removed. To augment the rescue operation, officials from Kohat have been summoned.
The Mine Rescue and Rescue 1122 Disaster Team of Orakzai have been tirelessly engaged in the search and rescue operation for the past 18 hours. The intensity of the rainwater has posed challenges in the process of rescuing the three trapped laborers, but the teams are determined to bring them to safety as soon as possible.
Hits: 24