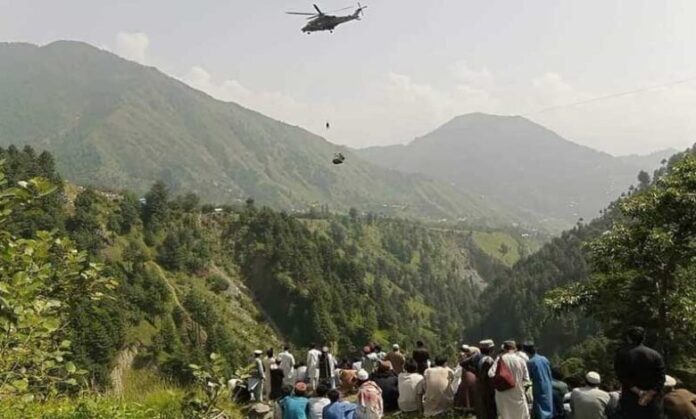 All eight individuals who were trapped in a chairlift in the Battagram district of Khyber Pakhtunkhwa have been successfully rescued after several hours. Among the trapped were six children, and the incident occurred when the cable of the chairlift snapped, leaving them suspended at a height of 900 feet.
During the rescue operation led by the Pakistan Army, a child was airlifted to safety by the initial helicopter dispatched for the mission. Subsequently, the helicopter-assisted rescue efforts were halted due to darkness. The remaining seven individuals were successfully rescued through alternative means.
Local residents ingeniously employed a second "rope doli" – a makeshift carriage used for river crossings – attached to the same wire to reach the stranded chairlift. This innovative approach enabled the safe retrieval of all trapped individuals, one by one.
Also Read: Pakistan Dominates Afghanistan in Thrilling One-Day Clash
A dedicated helipad was prepared to facilitate the operation, with medical teams present to provide immediate assistance to those who were brought to safety. Additionally, ambulances were on standby to address any potential emergencies.
One of the rescued boys, Niaz Muhammad, briefly lost consciousness due to fear. However, prompt first aid was administered, and he soon recovered from the ordeal.
According to Rescue 1122 and the district administration of Battagram, the incident transpired at Pashto in the remote Tehsil Allai at 7 a.m. At the time of the mishap, schoolchildren and teachers were en route to their school via the chairlift. Unfortunately, two out of the three cables supporting the chairlift snapped, leaving it stranded approximately 900 feet above the ground.
Parents and local residents quickly gathered at nearby locations upon hearing news of the cable breakage. Despite their efforts, the distance and challenges of the terrain prevented them from taking independent action.
Hits: 13