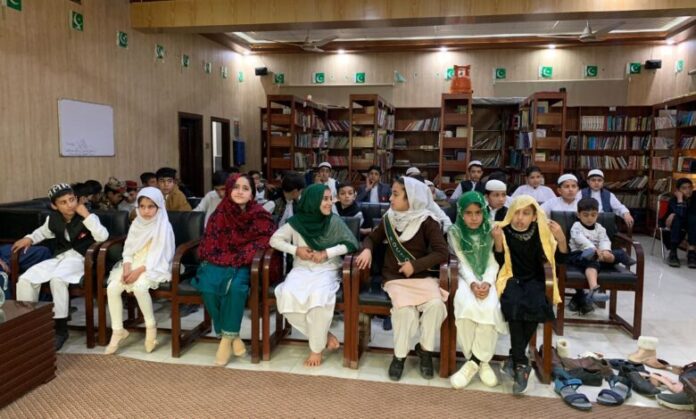 Rani Andleeb
A Darra Adamkhel library, setup by a private citizen, is not only helping promoting reading habits among the locals but at the same time improving the town image.
Darra Adamkhel is known as the gunsmiths' town across the country.
Raj Muhammad Afridi is the founder of the library. Afridi holds masters in Urdu from University of Peshawar and currently pursuing his doctorate from Qurtuba University Peshawar. Besides he is also working as subject specialist at the Government Higher Secondary School Tahkla Bala.
Besides, setting up a library, Afridi is author of four books. Second edition of his book Sujra Ki Siyar was published from India while National Book Foundation Islamabad published his other works including Antique Car and Dosti Karo Tu Apnon se. Besides, Afridi is also dabbling in the fields of Urdu short story, column writing, research and essay writing.
However, his most significant contribution was setting up a library in the town in the 2018. He setup this library from his own expenses which is now helping to change the people mindset.
This library is proving very much helpful to the locals and it provides internet, digital library and also has protected through CCTV cameras.
Library collections stand about 4500 books on various subjects covering Urdu novel, poetry, English, Islamic Studies, Iqbal Studies and other topics.
Afridi told TNN that when 500 people secured membership of this library, he felt his job done. "50 women were also among its members and this was going up," he said.
Afridi said that this was not only a library, rather, a training center, where they have started a storytelling programme called the Kahani Ghar for the children. Besides, he said that the library also arranges educational and training activities.
Happy readers
Eman Nawaz, a resident of Akharwal who takes part in every event held at the library, said that the town has received a perfect training center in the shape of this library. She said that they also take part in many activities besides reading at this library.
Manahil Jahangir, another local told TNN that this library was a blessing in disguise for the town. "We have all types of books to read in this library," she said.
Afaq, a resident of Rahim Killay area said that the library had a good collection of children books.
Similarly, Irfanullah, 55, who is overseeing the Darra Adamkhel library management on volunteer basis, said that setting up of the library was a welcome step for the area.
Malik Nawaz, a local of Akhawaral said that he was happy over playing role in setting up this library.  Malik Naseem Javed, a resident of Zarghan Khel, said that he had extended support to library and will continue to do so in future.
On the other hand, Raj Muhammad Afridi, another local said that it was his mission to spread education in his town and he will continue his efforts in future as well.
Hits: 9