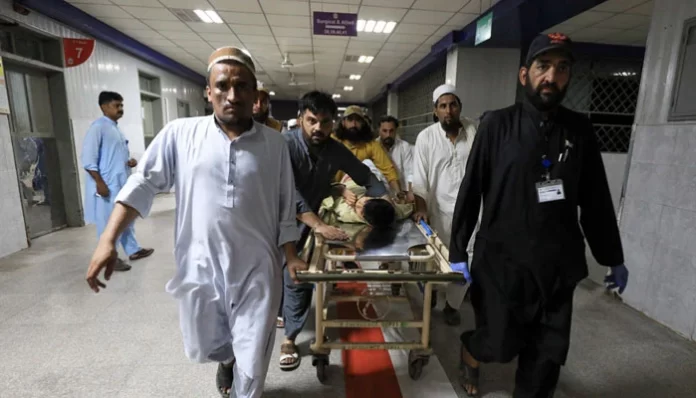 In the aftermath of yesterday's tragic suicide blast in Bajaur, three more injured individuals have succumbed to their injuries, bringing the death toll to 54.
The District Health Officer has confirmed the latest casualties and stated that more than 90 other injured individuals from the blast are currently receiving treatment in various hospitals.
Official documents reveal that out of the 54 victims who lost their lives in the Bajaur blast, 49 have been identified so far. Among the injured, 83 are undergoing treatment in different medical facilities, with 15 of them in critical condition.
Additional IGC CTD Shaukat Abbas provided further details, stating that the JUI meeting had commenced at 2 pm, and the blast occurred at 4:10 pm. The crime scene yielded evidence of ball bearings and other materials, indicating that the explosion was indeed a suicide attack. The assailant group responsible for the attack has been identified, and the investigation is progressing steadily, with forensic reports awaited.
Also Read: Growing Trend of Foreign Women Marrying Pakistani Men Sparks Concerns
At Lady Reading Hospital, 16 injured individuals from the Bajaur blast are currently under treatment, with most of them in stable condition. However, one of the injured is in critical condition and is being treated in the ICU.
FIR Registered
An FIR related to the Bajaur blast has been filed at the CTD police station in Bajaur. The FIR names an unknown assailant and includes charges of terrorism, murder, attempted murder, and other relevant provisions.
An inquiry team tasked with investigating the blast has visited the site and completed the geo-faxing process at the crime scene. The team has collected crucial evidence, including statements from the injured individuals.
Meanwhile, the bomb disposal unit has concluded its investigation into the explosion that occurred during the JUI workers' convention in Bajaur. According to sources from the BDU, the investigation confirms that the blast was a suicide attack, and approximately 12 kg of explosives were used in the incident. Ball bearings recovered from the crime scene indicate the use of highly explosive material.
DPO Nazir Khan has shared preliminary information suggesting that the explosion was indeed a suicide attack, as the bomber detonated explosives near the stage during the convention.
Hits: 16