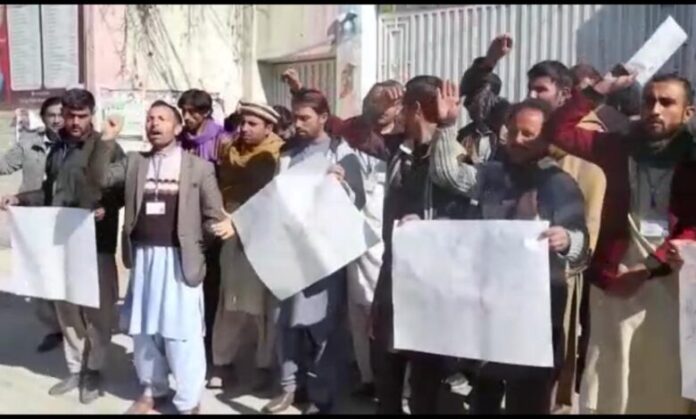 KURRAM: Contractual employees working in a project at district headquarters hospital Kurram on Saturday protest against non-payment of salaries for past eight months.
The protesting employees warned that they will stage a sit-in at the gate of the DHQ if their salaries were not paid on time.  The employees of Console project protested in front of Parachinar Press Club and closed down the road for every kind of traffic. They also chanted slogans in favor of their demands at this occasion.
Speaking at this occasion Qaiser Hussain and other project employees said that they were working under the Console project at the hospital for past eight months. They said that during this period they improved sanitation situation of the hospital. "We ensured good working conditions for patients and doctors," they said. However, they said during this period, they have been paid salary for a single month. "Our salaries for past eight months have not been paid," they said.
Syed Miran Shah, one of the employees said that they worked for eight months and now the management was telling us that their jobs did not exist.
Shah said that this was an injustice to their services. "If authorities want to terminate our jobs, then our salaries should also be paid," he said. He said that otherwise they will be forced to stage sit-in in front of the hospital.
On the other hand, Niamatullah, project manager for the Console project told TNN that their company was working in 12 districts of the province. He said that Khyber Pakhtunkhwa government was bearing the expenses of the project. However, he said that the salaries have been stopped due to the funding constraint. "We are currently facing funding constrains; however, authorities are striving to ensure to pay the outstanding salaries of these employees," he said.
Hits: 11