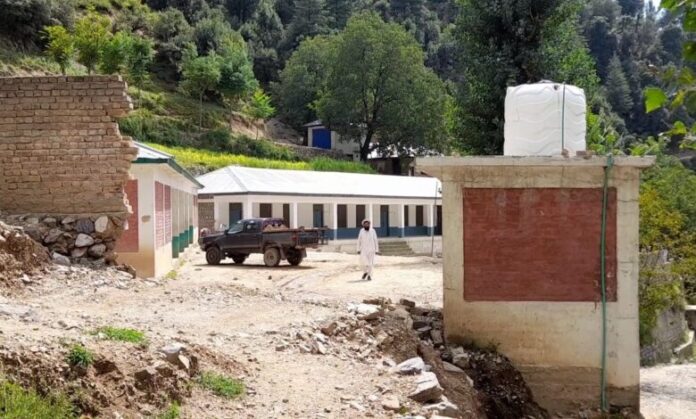 Zahid Jan Dirvi
In the remote area of Sheringal Tehsil in Dir Upper, the only government high school, Achar Bala, with a population of seven thousand, is grappling with a bleak future for its students due to a severe lack of science and other subject teachers.
Asif Khan, an 8th-grade student at Government High School Achar Bala, expressed his concerns about the scarcity of teachers. He revealed that even the teachers who are assigned to the school do not attend regularly, significantly impacting their studies. The school caters to around 300 students, and if the shortage of staff is not addressed, it could deprive them of proper education.
Sadarat Khan, a dedicated social worker, highlighted the plight of Government High School Achar Bala, established in 1998. He pointed out that the school has not been able to appoint a principal, nor has it fulfilled the shortage of teachers in various subjects, creating difficulties for the students in completing their courses.
Also Read: Torkham Border: Fistfight Between Afghan Forces and FC Personnel
The school is approved for 15 teacher positions, but only seven have been filled, and some of them are frequently absent. Principal, SST, Chemistry, Biology, PET, and Qari posts remain vacant, adversely affecting the children's education. The lack of basic facilities such as a laboratory, principal's office, main gate, and boundary wall further adds to the school's deteriorating condition. Moreover, there is no girls' school in Achar Bala, leaving hundreds of girls devoid of educational opportunities.
Despite several requests to the Deputy Commissioner of Dir and Education Office, no action has been taken so far. Sadarat Khan urged the government to provide separate schools for girls and ensure immediate fulfillment of staff shortages and necessary facilities in high schools for boys.
Deputy District Education Officer Muhammad Iqbal acknowledged the issue and assured that he will personally visit Government High School Achar Bala to address the lack of staff and other basic needs, including teacher shortages.
Hits: 8