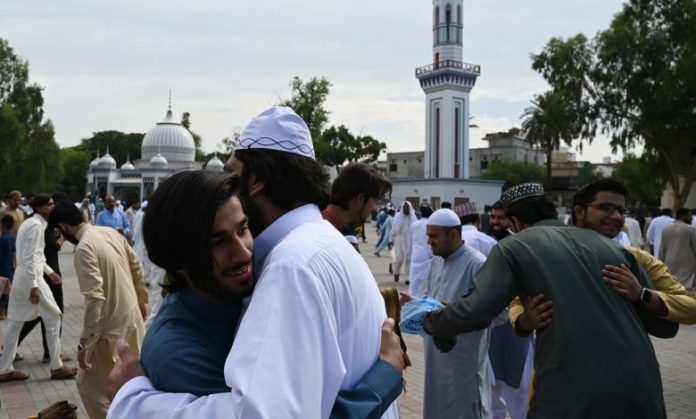 Muslims across several tribal districts of Khyber Pakhtunkhwa, Afghan refugee camps, and a few villages are celebrating Eid-ul-Fitr today. Unlike Ramadan, this year there was no agreement on celebrating Eid on one day in many areas of Khyber-Pakhtunkhwa, tribal districts, and Balochistan.
The local Ruet e Hilal Committee of North Waziristan announced the celebration of Eid after several pieces of evidence of moon sightings came to light.
Similarly, people in most areas of Bajaur and Mohmand have announced celebrating Eid with Saudi Arabia. However, the official Committee and the unofficial Hilal Committee of Peshawar Masjid Qasim Ali Khan announced the celebration of Eid on Saturday, April 22 due to the lack of evidence.
Also Read: Kumrat Valley Road Restored for Eid Tourism After Heavy Rain and Flooding
Eid celebrations are also taking place in many villages of different districts including Peshawar and Mardan.
In the Gulf states, including Saudi Arabia and the United Arab Emirates, large Eid gatherings were held at the Prophet's Mosque in Madinah and the Haram Mosque in Makkah, which were attended by over 2.5 million people.
Eid-ul-Fitr is also being celebrated in the United Arab Emirates, Qatar, Turkey, and Afghanistan.
However, communities in the UK and Europe are divided this year as some Muslims will celebrate Eid on Friday and others on Saturday.
Moreover, Iran, Indonesia, Malaysia, Singapore, Australia, Brunei, Japan, Philippines, and Thailand will celebrate Eid-ul-Fitr on April 22.
Hits: 5