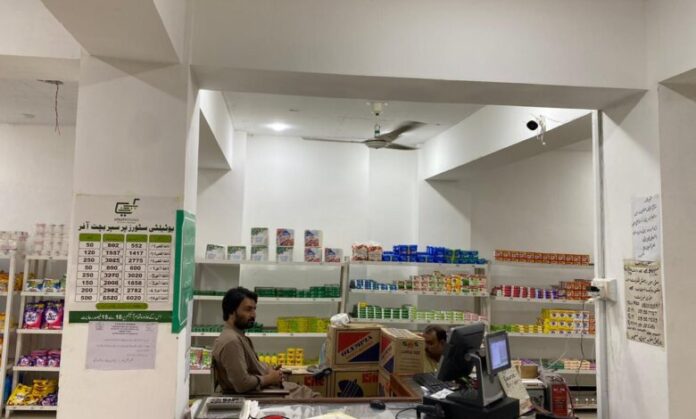 Zeeshan Kakakhel
Utility stores were established to alleviate the burden on the public, yet they are failing to provide the promised relief. While some non-subsidized items clutter the shelves, essentials like flour, sugar, and ghee – which should be subsidized – are conspicuously absent.
Peshawar, a bustling city, hosts dozens of utility stores where sugar, flour, and other subsidized goods are conspicuously scarce. Disheartened citizens frequent these outlets only to return empty-handed. Despite the establishment of over 90 utility stores across the provincial capital – including plush Hayatabad and remote corners – the people remain disillusioned with their failure to counter the soaring inflation.
Locals lament the conspicuous absence of subsidized essentials from the stores, which largely stock items at market prices. Muzamil, a Peshawar resident, narrates how sugar and flour have been elusive from utility stores for the past three months. The saving of up to Rs 71 per kg on sugar (priced at Rs 160 per kg in the market versus Rs 91 per kg in the store) highlights the utility store's potential to alleviate financial strain, particularly during inflationary times.
Also Read:  KP Assembly Seats Redefined: Shifts in Representation Await ECP Decision
Muzamil emphasizes that a 10 kg bag of flour is priced at Rs 648 at the store, amounting to Rs 1296 for a 20 kg bag. However, the same quantity of flour outside the store fetches no less than Rs 2800. The discrepancy could save consumers up to Rs 1500, but the utility store's failure to provide such essentials leaves this potential unexplored.
Qadir, another local, notes that while non-subsidized items are readily available, their prices align with market rates. Even beans – which cost 428 rupees per kilo at the store – closely mirror market prices ranging from 420 to 430 rupees. This parity raises concerns about the true impact of utility stores on public finances.
Amjad Khan, an official at a utility store in Cantt, concurs that prices have surged in recent days. Tea, for instance, now commands over 1100 rupees for half a kilo compared to up to 1000 rupees in the market. Soap, shampoo, chana dal (pulses), and broken rice have all experienced price hikes. Even small quantities of dry spices jumped from Rs 90 to Rs 120. Amjad points out that while they dole out 70 bags of flour every few months, this remains inadequate to address the demand.
Zulfiqar, a resident of Nothia, expresses his disappointment with the absence of government-subsidized sugar and ghee in the stores. He questions the purpose of such subsidies if the items are perpetually out of stock. Zulfiqar implores the government to deliver genuine relief to the people by ensuring the availability of subsidized essentials.
Hits: 7