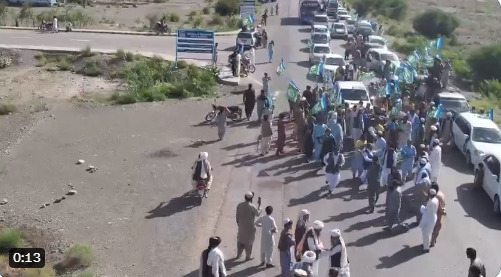 An explosion occurred near the convoy of Jamaat-e-Islami Ameer Siraj-ul-Haq in Zhob  Today, resulting in the death of one person and injury to five others. The injured individuals have been promptly transferred to the hospital for medical treatment.
Jamaat-e-Islami Secretary General Ameerul-Azeem stated that the attack on Siraj-ul-Haq in Balochistan was carried out by a suicide bomber, who was killed in the incident. He reassured that Siraj-ul-Haq and his companions are safe and unharmed.
Also Read: Former Deputy Speaker Involved in Violent Property Dispute, One Injured in Peshawar Clash
Meanwhile, the police have confirmed the occurrence of the explosion near Siraj-ul-Haq's convoy in Zhob, assuring that the Jamaat-e-Islami Ameer remained safe during the blast.
Authorities have informed that a Jamaat-e-Islami meeting was scheduled to take place in Zhob, and Siraj-ul-Haq was set to address the gathering.
Hits: 14