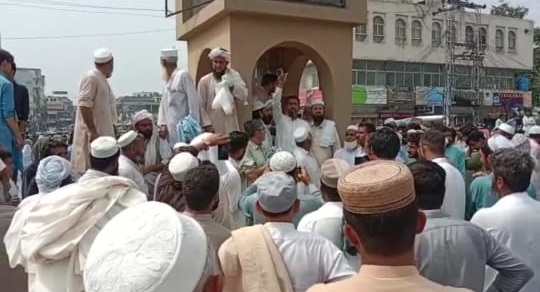 Syed Nadeem Mashwani
Farmers in Nowshera stage a protest demanding water for their crops under the Kheshgi Left Irrigation Scheme.
Local farmers in Nowshera took to the streets to protest against the non-availability of water for their crops under the Kheshgi Left Irrigation Scheme. The scheme, which was established on the water of the Kabul River, was designed to provide irrigation to thousands of acres of agricultural land and crops in the surrounding villages of Kheshgi Payan, Kheshgi Bala in the Nowshera area, and Charsada.
The protestors voiced their grievances, stating that a transformer had been burnt three months ago due to the low voltage of electricity. As a result, numerous local farmers have been facing severe difficulties due to the lack of timely water supply for their crops. The dire situation has pushed many farmers to the brink of financial bankruptcy.
Also Read: Nurturing Mental Health: Breaking Stigmas
Despite numerous meetings with irrigation officers and negotiations with the district administration, the issue remained unresolved. Frustrated with the lack of action, the affected farmers, local government representatives, and the public organized a protest at the local level.
They initially blocked the Charsada-Nowshera road and later intensified their protest at Shobra Chowk, vehemently expressing their discontent with the government and the irrigation department.
The protestors highlighted the irony of Pakistan being an agricultural country while the Nowshera Kheshgi Left Irrigation Scheme's transformer had been dysfunctional for three months without any remedial action being taken.
Following successful negotiations with local authorities, including AC Nowshera and ADC Nowshera Miss Wazir, the agitated protestors decided to end their demonstration and reopened the road for traffic. However, their plea for a prompt resolution to the water scarcity issue remains unresolved.
Hits: 10