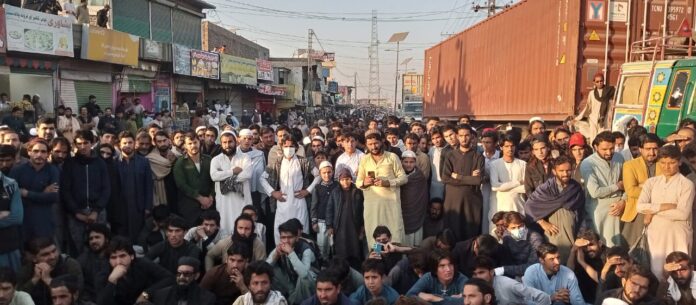 In a tragic incident, a passerby lost his life in the crossfire at Akakhel police station in Bara Tehsil of Khyber District. Outraged by the incident, the Bara political alliance staged a protest, blocking the Pak-Afghan highway. The demonstration came to a peaceful end after an FIR was filed against the officials at Shekhan Checkpost.
Sources reveal that the Bara Akakhel Mailward police, stationed at the Bara Sheikhan bridge, attempted to stop a suspicious vehicle. Instead of complying, the driver accelerated, breaking through the roadblock. In response, the police opened fire, fatally injuring a mason named Rehmat, who was on his way to his shop.
Police authorities arrived promptly, took custody of the body, and transported it to Dogra Hospital for post-mortem examination. Bara political alliance leaders gathered at Dogra Hospital, placing the deceased's body in Khyber Chowk. They blocked the Pak-Afghan highway, expressing their grievances and chanting slogans against the police.
Also Read: Khyber Pakhtunkhwa's Political Pulse: PTI Faces Challenges, JUI's Unconventional Rise
Addressing the protestors, leaders of the Bara political alliance, including Khan Wali Afridi, Ismatullah Afridi, Zahidullah, Muhammad Farooq Afridi of Al-Farooq Caravan, Chairman of Anjuman Tajran Bara Syed Ayaz Wazir, PPP leader Sohail Afridi, and others, accused the police of neglecting peace maintenance and focusing solely on drug confiscation for personal gain. They demanded an FIR against the officials at the Bara Sheikhan bridge post for the murder, urging a Shuhada package and a government job for the deceased's child.
During negotiations, SHO Bara Hardam Gul, SHO Landi Kotal Malik Akbar Afridi, and SHO Mailward Akakheel Aqal Ghameen Afridi assured the protestors that an FIR would be registered against the Shekhan Bridge checkpoint staff. Additionally, they pledged to initiate measures for the deceased's heirs to receive a Shuhada package. Subsequently, the protestors dispersed peacefully.