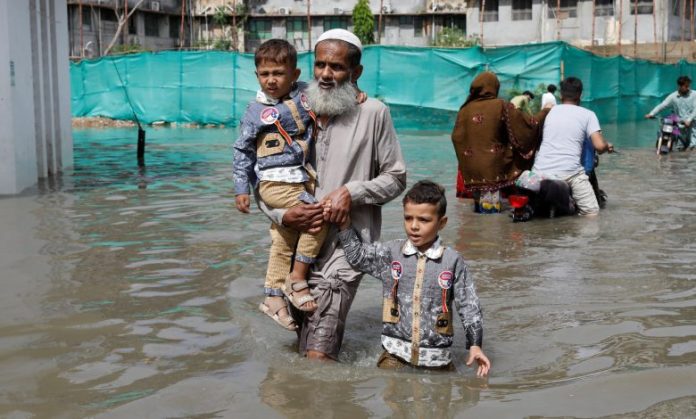 Pakistan, May 25, 2023: Sindh and South Punjab communities in Pakistan continue to face significant challenges and struggle to recover from the devastating floods that occurred months ago. These communities are grappling with the aftermath, including disruptions to their livelihoods and a lack of essential infrastructure.
In light of this, a recent report by Clear Global (CLEAR), a US-based nonprofit organization focused on community engagement, accountability, language, and reach, sheds light on a dangerous information gap hindering the recovery process.
The report reveals that flood-affected individuals are unable to access crucial information necessary to obtain assistance, protect themselves from harm, and prepare for future floods. It emphasizes the urgent need for improved communication channels between communities, authorities, and civil society to overcome language and communication barriers that exacerbate the situation.
Also Read: Khyber: Polio Team Attacked, Three Police Personnel Injured in Tirah Valley
The research conducted by Clear Global focused on engaging with Sindhi-speaking communities in Sindh and Balochi- and Saraiki-speaking communities in South Punjab. Its goal was to understand the reach and comprehension of flood-related communication. The key insights from the report underscore the severity of the information crisis and provide recommendations for organizations involved in the response to bridge the gap.
One of the alarming findings is that many of the most severely affected individuals received no information at all. Despite the materials developed by the government and national and international organizations, only a few participants had seen or heard of them beforehand. This lack of dissemination leaves vulnerable communities unaware of available assistance and compensation programs to aid their recovery efforts.
Moreover, the report highlights the disproportionate exclusion of women from accessing information. In the affected regions, many women do not own their own phones and rely on male family members to relay information.
They face additional challenges due to limited literacy, making it difficult for them to access and understand written information. The absence of accessible communication channels, such as hotlines, further compounds the issue, leaving women feeling isolated and without a means to obtain critical information.
The report emphasizes the necessity to adapt existing materials to effectively reach the affected communities. Participants expressed that the shared materials would have been useful if they had been accessible when needed.
However, the complexity and confusion caused by visual materials, including inappropriate or unclear pictures, underscore the need for clear, audio-based communication in local languages. Simplified posters, thoroughly tested for comprehension and acceptability, are also recommended to improve information access.
Inadequate information provision increases the risk to individuals, as participants described instances of disinformation and scams that exploit the lack of reliable information. Confusion surrounding relief distribution and entitlements has led to tensions within communities, exacerbating the already challenging circumstances faced by flood-affected individuals.
The inadequate flow of information has also resulted in heightened feelings of anger and injustice among affected communities. Participants in Sindh expressed frustration that government assistance had not reached them, and there were perceptions that aid had been politicized during local elections. Communication barriers compound these frustrations, hindering people's ability to report instances where they believe their right to support has been denied.
Based on the research findings, Clear Global offers several recommendations to organizations involved in the response efforts:
Prioritize audio communication in regional and local languages, such as Sindhi (in Sindh), Balochi, or Saraiki (in South Punjab).
Simplify posters and ensure they contain no more than 2-3 images, field-testing them for comprehension and acceptability.
Provide written information in plain language, avoiding technical terms and explaining the names and functions of official institutions.
Train community members, especially women, teachers, and school children, to effectively relay emergency information.
Make a range of accessible complaint, feedback, and reporting mechanisms available across affected communities, including regional or district hotlines and face-to-face options for women.
The report emphasizes that effective communication is crucial for ensuring the safety and well-being of individuals in disaster-prone areas. It calls for immediate action to address the information gap and promote resilience within flood-affected communities. By implementing the recommended strategies, organizations can help bridge the information divide, empowering communities to protect themselves, access vital services, and effectively prepare for future disasters.
In a time when information is crucial for recovery, it is imperative to prioritize the needs of the most marginalized and ensure that no community is left behind. Addressing the information gap is a critical step towards enabling flood-affected individuals to rebuild their lives, regain a sense of security, and emerge stronger from the challenges they face.
Note: The report is also available in Urdu and can be accessed through the following link for those who prefer to read it in their native language: https://clearglobal.org/wp-content/uploads/2023/04/CLEAR-Global-2023-H2H-Pakistan-Urdu-version.pdf.
Hits: 8