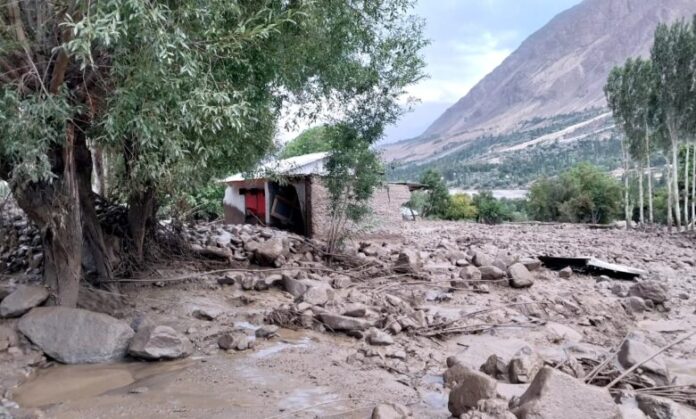 Gul Hammad Faruqui
Yarkhoon Meeragram No. 2, Chitral Valley witnessed a devastating flood this morning as a glacier lake burst (GLOF), causing widespread destruction in the canal. Five houses were completely destroyed, and two others were partially damaged.
The houses of Siddique-ul-Azam, Umar Mian, Hayat-ul-Amin, Zafar Jan, and Amin were among those completely flooded, while Maqbool and Irfan's houses suffered partial damage.
In addition to the houses, ten shops were also flooded, and significant damage was inflicted on crops, gardens, and forests. Fortunately, no lives were lost in the disaster.
Also Read: Remote-Controlled Bomb Blast Injures Four in Bajaur
The affected residents are urgently seeking relief and assistance from the Tehsil and District Administration, Provincial Disaster Management Authority, and other higher authorities.
It is crucial to note that the intense heat in Chitral over the past week has led to the continuous bursting of glacier-formed lakes, resulting in flooding of rivers and streams. Various areas, including Ayon, Burnas, Khoj, and Yarkhoon, have experienced houses being washed away, and standing crops damaged.
The routes to Shandur, Laspur, and Sor Laspur were closed, and emergency bridges such as Shahi Das have been washed away. The Chitto Ghani drain has seen severe flooding, deepening its channel by hundreds of feet. The region faces serious danger due to flooding in these drains, demanding immediate attention and action from authorities.
Hits: 16