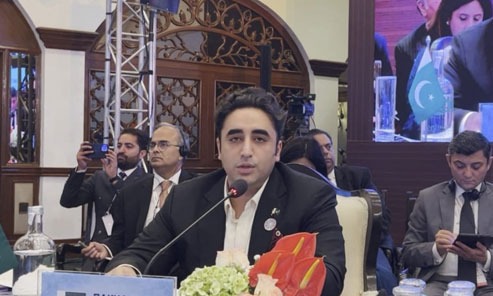 Foreign Minister Bilawal Bhutto Zardari expressed his desire for normal relations with India but emphasized that India must create a favorable environment for that to happen.
Speaking to the media after attending the Shanghai Cooperation Organization (SCO) meeting, Bilawal stated that Pakistan's stance on Kashmir remains unchanged and India's 2019 move created a rift between the two countries. He added that Pakistan has always followed the resolutions of the United Nations regarding the matter.
Bilawal also highlighted that there can be no change in diplomatic relations with India until the 2019 initiative is withdrawn.
Also Read: Bilawal visits Goa: Pakistan to Release 600 Indian Fishermen as a Goodwill Gesture
When asked about shaking hands with the Indian Foreign Minister on camera, Bilawal said he had no problem with it, but they should ask the Indian Minister. He added that sports should be separated from politics and foreign policy, mentioning that the blind cricket team of Pakistan was supposed to visit India but was denied visas.
Despite the differences between Pakistan and India, Bilawal said that the forum was not affected, and various foreign ministers had a meeting during the occasion.
Bilawal emphasized that Pakistan wants better relations with India, and the coverage of his arrival shows that Pakistan is more important.
Hits: 7