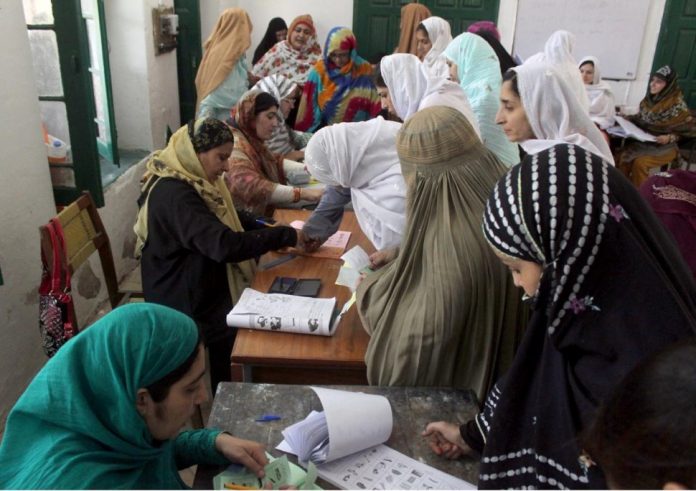 Rifaqatullah Razarwal
The Election Commission of Pakistan, releasing the latest data on registered voters across the country recently, has revealed a significant gender gap in voter registration, with men accounting for 54% of registered voters while women make up only 46%, while women's voter registration falling behind men's in all four provinces.
Experts attribute this gender gap to the lack of political awareness and the difficulty rural women face in obtaining national identity cards.
Dr. Abida Banu, a professor of gender equality at the University of Peshawar, notes that many women in rural areas do not have national identity cards, which are necessary to vote, because ID card offices are scarce and they are not aware of the importance of voting. "Women make cards when they have to go for Hajj, Umrah, or expect to receive government aid, but not to vote," she says.
Moreover, traditional beliefs and cultural norms often hinder women's autonomy and their ability to exercise their political rights. Dr. Banu says women face numerous obstacles in acquiring ID cards, including obtaining consent from male family members and navigating complicated bureaucratic procedures.
Also Read: Fatima Jinnah reminds me women can do wonders
To address these challenges, Dr. Banu suggests that the government should invest in educating women on the significance of voting and increasing the availability of national identity card offices in rural areas. She believes that if these measures are implemented, more women will register to vote.
Meanwhile, the Election Commission and NADRA (National Database and Registration Authority) have launched mobile vans to facilitate ID card registration in 10 districts of Khyber Pakhtunkhwa. Sohail Ahmad, a spokesperson for the Election Commission, acknowledges that some women are hesitant to obtain ID cards without their husband's permission, but officials are working to persuade them of the importance of exercising their political rights.
However, unless the gender gap in voter registration is addressed, the full participation of women in the democratic process in Pakistan will remain limited.
Hits: 23