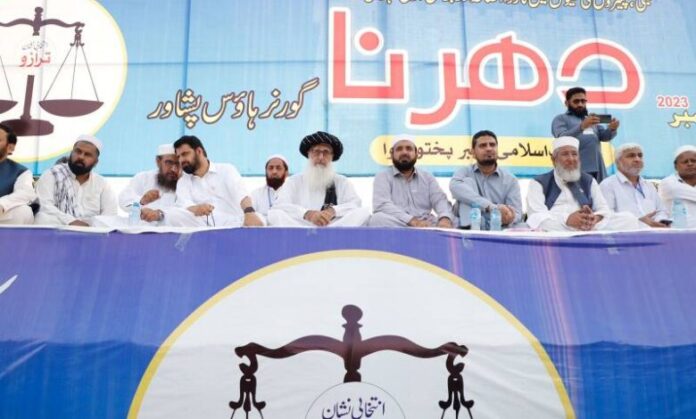 Jamaat-e-Islami organized a sit-in protest outside the Khyber Pakhtunkhwa Governor's House to voice their concerns over the increasing prices of electricity, and petroleum products, and the overall inflationary pressures.
As part of their anti-inflation movement, Jamaat-e-Islami workers conducted a three-day sit-in demonstration in front of the Governor House in Peshawar. They also obstructed access to the museum by placing a shipping container at the entrance.
The Amir (leader) of Jamaat-e-Islami, Siraj-ul-Haq, personally camped for three days in Peshawar.
Also Read: SSP Sonia Shamroz Khan Receives International Police Officer of the Year Award
A spokesperson emphasized that their protest movement is characterized by its peaceful nature, and their goal is not to resort to violence or arson. Their primary demand is for the government to roll back the steep price hikes.
Additionally, Jamaat-e-Islami intends to file a legal case in the Supreme Court challenging the significant increases in electricity and petrol prices.
It's worth noting that Jamaat-e-Islami has planned further sit-in protests in front of Governor Houses, with upcoming demonstrations scheduled for September 21 in Quetta and October 6 in Karachi.
Hits: 17