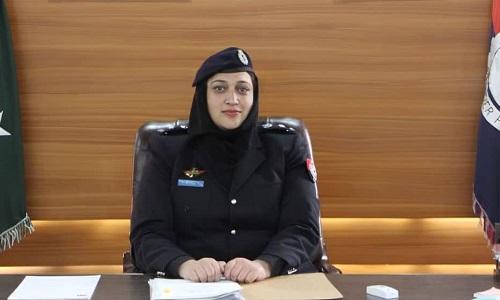 Sonia Shamroz Khan, the Senior Superintendent of Police (SSP) and District Police Officer (DPO) in Battagram, Khyber Pakhtunkhwa, has been recognized with a prestigious international award.
She was bestowed with the "Police Officer of the Year Award" in Auckland, New Zealand, in acknowledgment of her outstanding contributions to policing and her dedicated efforts in preventing violence against women.
Sonia Shamroz Khan, a distinguished woman police officer serving as DPO in Battagram, received accolades for her exceptional policing initiatives and initiatives aimed at preventing violence against women. The International Association of Women Police presented her with this esteemed award.
Also Read: BRT Peshawar Operating Smoothly, Receives Regular Subsidy
During her tenure, Sonia Shamroz Khan has held various positions, including DPO Chitral, and she has been instrumental in establishing complaint cells to combat forced marriages and other gender-related issues.
In an interview with the media, SSP Sonia Shamroz Khan dedicated her award to the women who have suffered from gender discrimination and to the hardworking women police officers who tirelessly work to uphold peace and security. She emphasized that these officers are not only committed to their duty but also consider cultural norms and sensitivities in their work. As a result, there has been a notable increase in the reporting of crimes related to women. Sonia Shamroz Khan highlighted the positive change in her district, Battagram, where women now confidently approach the police station to seek assistance and report incidents.
Hits: 87