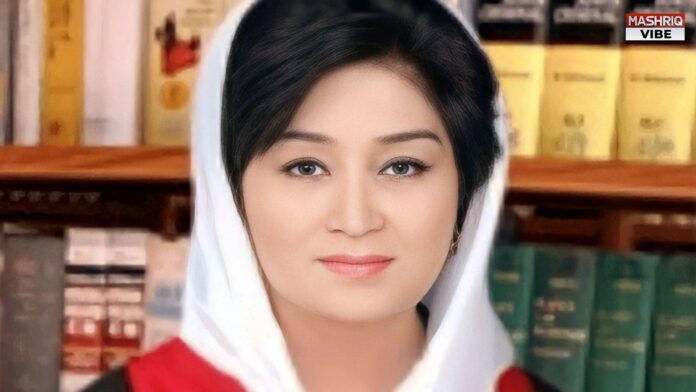 PESHAWAR: Pakistan's judicial history is set to witness a unique example; the Peshawar High Court (PHC), in a rare coincidence, will see three judges acting as its Chief justice (CJ) in three days including its first female CJ as President Dr. Arif Alvi on Wednesday approved the appointment of Justice Musarrat Hilali as the first female Chief Justice of the Peshawar High Court.
Justice Roohul Amin will take Oath as Chief Justice on the retirement of current Chief Justice Qaisar Rasheed Khan on 30th March. However, Justice Amin is set to retire on 31st March, therefore, leaving him officiating as the Cj only for one day.
Justice Musarrat Hilali, the senior-most judge of PHC, will take charge on April 1, "till the appointment of a regular chief justice by the Judicial Commission of Pakistan,"  said a notification issued by the law ministry.
Justice Hilali would be the second female judge to be elevated to the chief justice of a high court after Justice Tahira Safdar, the CJ of Balochistan High Court from September 2019 to October 2019.
Born in Peshawar on August 8, 1961, she received Law Degree from Khyber Law College Peshawar University and enrolled as an advocate of district courts in 1983, as an advocate of the high court in 1988, and as an advocate of the Supreme Court in 2006.
Being a woman, she had several achievements in her career, including being the first female elected office bear on the post of secretary at the bar from 1988-1989, vice president at the bar (twice) from 1992 to 1994, general secretary from 1997-1998, first female twice elected as an executive member of Supreme Court Bar Association(SCBA) from 2007-2008 and 2008-2009.
Also Read: PHC issues restraining order on PTI 10 ex-MNA's resignations
She was also the first female Additional Advocate General of Khyber Pakhtunkhwa from November 2001 to March 2004 and was later appointed as the first female chairperson of the Khyber Pakhtunkhwa Environmental Protection Tribunal.
She also served as the first female ombudsperson for the Protection against Harassment of Women at Workplace.
She was elevated to the bench as an additional judge on March 26, 2013, and confirmed as a permanent judge of the PHC on March 13, 2014.
Last year in January, Justice Ayesha Malik made history in Pakistan's judicial system after being sworn in as the first female judge of the Supreme Court of Pakistan.
Hits: 34