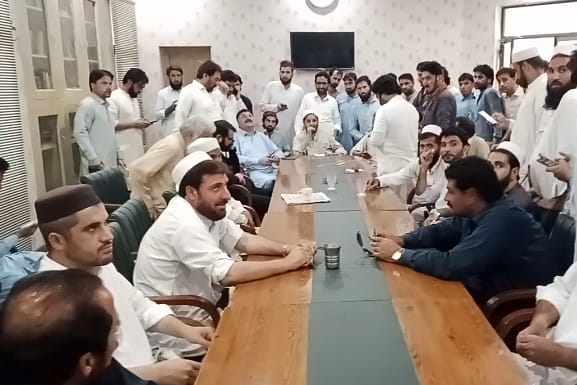 Preparations have been finalized for the Aman Jalsa Bara peace gathering scheduled in Khyber tribal district's Bara Tehsil on Saturday. However, the district administration has concurrently enforced Section 144 to curb the event.
Aman Jalsa Bara, organized under a political alliance, is anticipated to host prominent leaders from national political parties. Organizers assure that arrangements have been meticulously managed, entrusting volunteers with responsibilities to ensure a peaceful rally.
In contrast, Deputy Commissioner Khyber has invoked Section 144, imposing a ban on gatherings and public assemblies across the district.
Also Read: Minority Empowerment Highlighted: PPP's Call to Action
Shah Faisal Afridi, President of Bara Political Alliance, elucidated during a press briefing at Bara Press Club that the decision for Khyber Aman Jalsa was reached during the 100 km Bara to Tirah Aman March, slated for July 25. Afridi emphasized that escalating incidents of target killings, bombings, and violence in the tribal districts, especially Khyber, necessitated action to prevent further unrest. He asserted their readiness to resist and sacrifice within the bounds of the Constitution and law.
Addressing security concerns, Shah Faisal Afridi remarked that rally security is the responsibility of both the district administration and the police.
Bara Trade Union has declared a complete shutdown on the day of the gathering, urging the business community's participation.
Meanwhile, Deputy Commissioner Khyber, Abdul Nasir Khan, issued a proclamation enforcing a ban on gatherings of more than five people across the district. The implementation of Section 144 will be immediate, effective until August 13, with potential legal action under Section 188 of the Pakistani Penal Code for violations.
The district police chief and tehsil assistant commissioners have received directives for necessary action. Political party leaders present at the press conference jointly emphasized the resolve to proceed with the meeting under any circumstances.
Hits: 18