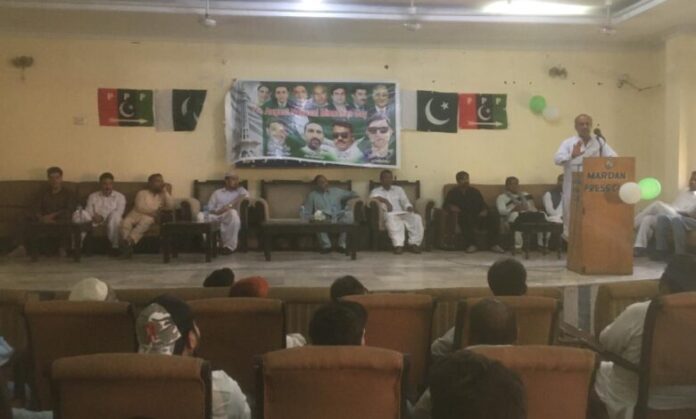 A.Sattar
Today marks the observance of International Day of Minorities across the country. To commemorate this day, the Minority Wing of the Pakistan People's Party held an event at the Mardan Press Club, attended by Khyber Pakhtunkhwa's Minority Wing President, Naseeb Chand.
During the event, Naseeb Chand, the Provincial President of the Minority Wing, emphasized that since the tenure of PPP Prime Minister Yusuf Raza Gilani, August 11 has been designated as Minority Day throughout Pakistan. The purpose behind this is to shed light on the challenges faced by the minority community.
Naseeb Chand highlighted a significant issue faced by the minority community in Khyber Pakhtunkhwa—unemployment among educated youth. Despite the allocation of a five percent quota by the provincial government, minority girls and boys are not being granted jobs based on their education.
Also Read: KP Sports Directorate Unveils Digitalization Project
In the realm of education, Naseeb Chand pointed out a specific concern. The Education Department has imposed a requirement for the minority community to attain 42 marks, a threshold that many children fall short of, with only 36 or 37 marks.
With a population of one lakh in Khyber Pakhtunkhwa, minorities constitute four percent of the total population of the country. Naseeb Chand noted another pressing issue—the lack of crematoriums for the minority community. Hindu and Sikh communities have to transport their deceased from Malakand to Peshawar and Dera Ismail Khan to tribal districts, due to the absence of suitable cremation grounds.
Nasib Chand urged the government to take action in establishing approved cremation grounds at various locations for the minority community.
He also expressed concern over the targeting of the minority community in the province amidst the prevailing wave of terrorism.
The ceremony, organized by the Minority Wing of the Pakistan People's Party, saw the presence of Provincial Information Secretary Jameel Bhatti, District Leader of PPP Nawabzada Umar Farooq Hoti, District President of the Minority Wing Shakeel Bhatti, and other officials from Mardan district. The event was attended by a significant turnout from the minority community.
Hits: 3