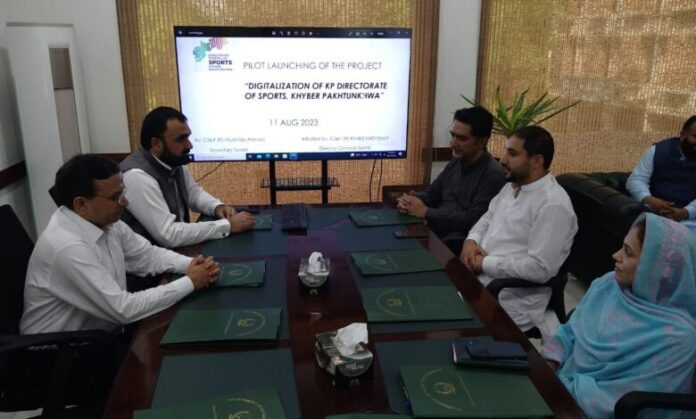 Mehrab Afridi
In a momentous stride towards modernizing sports management, Provincial Sports Minister Mutiullah inaugurated the pioneering digitalization initiative by the Khyber Pakhtunkhwa Directorate of Sports.
The inauguration ceremony, held at the Secretary Sports Office, was graced by the presence of Captain Retired Mushtaq Ahmed Khan and DG Sports Captain Retired Khalid Mehmood.
During the ceremony, DG Sports Captain Retired Khalid Mehmood provided an insightful overview of the digitalization project, underscoring its launch with the development of an Enterprise Resource Planning (ERP) system, comprising diverse modules. This comprehensive initiative aims to revolutionize the landscape of sports administration.
The project ambitiously encompasses an array of modules, encompassing player and staff management, seamless registration processes, efficient ground management, streamlined inventory control, optimized cash flow oversight, and expeditious delivery of sporting essentials. With the meticulous groundwork completed, the project is set to progress as the procurement process initiates next week.
Also Read: Sarfraz Nawaz Praises Pakistan's Cricket Strength, Emphasizes Shaheen Afridi's Dominance
Secretary Sports, deeply appreciative of DG Sports' endeavors, proactively suggested the inclusion of procurement and e-billing modules to amplify the project's scope. Echoing this sentiment, the caretaker provincial sports minister emphasized the timely significance of digitization, asserting its potential to amplify institutional efficiency manifold.
Furthermore, he advocated for an extended application of the ERP system, advocating for its mandatory use throughout the province. The Sports Minister expressed an unwavering commitment to providing comprehensive support to this transformative venture and extended heartfelt gratitude to all involved stakeholders.
The launch of this groundbreaking digitalization project not only marks a pivotal stride towards modernizing sports management in Khyber Pakhtunkhwa but also underlines the province's commitment to embracing technological advancements for enhanced governance and operational excellence in the realm of sports.
Hits: 6