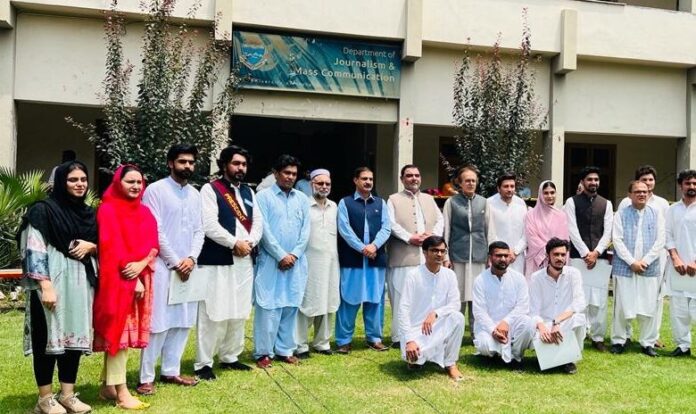 Aftab Mohmand
Khyber Pakhtunkhwa's Caretaker Information Minister, Barrister Mian Feroze Kakakhel, officially opened a podcast studio at the Journalism Department of Jamia Peshawar.
During the inauguration ceremony, Barrister Mian Feroze Jamal Kakakhel emphasized the significance of journalism as a vital pillar of any society, highlighting the immense responsibility it carries. He stressed the importance of handling journalism in a responsible manner, considering it a positive step forward.
The caretaker information minister expressed concern over the misuse of social media, stating that it has disregarded our social values and led an entire generation toward destruction. He further attributed the events of May 9 to the misuse of social media and emphasized the responsibility of journalists and educators to guide the younger generation.
Also Read: Pervez Khattak Forms New Political Party, PTI Parliamentarians
Dr. Faizullah Jan, Chairman of the Department of Journalism, also addressed the gathering and highlighted the significance of the newly established podcast studio.
He emphasized that the studio will provide journalists and journalism students with a platform to create professional journalistic content. Dr. Jan emphasized the sacred nature of the journalism profession and cautioned against its irresponsible use, which could have detrimental effects on society.
Dr. Jan also mentioned that the Journalism and Mass Communication Department of Jamia Peshawar is the first department in Khyber Pakhtunkhwa to have produced accomplished journalists in both Pashto and Urdu languages, both within the country and abroad. He added that the department is now focusing on strategic communication in addition to journalism, recognizing its growing importance.
Hits: 5