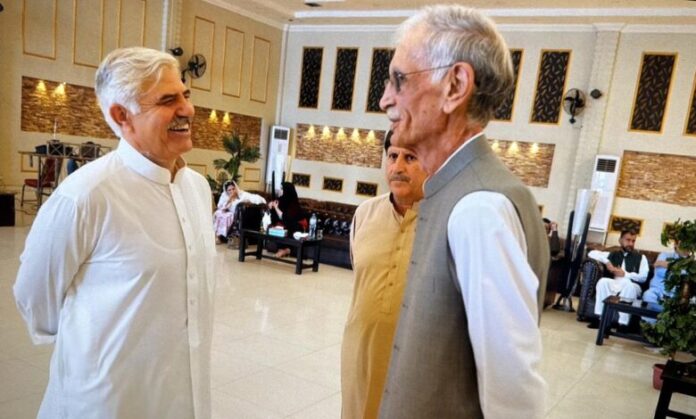 Usman Danish
Former Pakistan Tehreek-e-Insaf (PTI) leader and ex-Chief Minister of Khyber Pakhtunkhwa, Pervez Khattak, has announced the formation of a new political party called "PTI Parliamentarians."
Sources indicate that 57 PTI members, including former Chief Minister Mahmood Khan, have joined Pervez Khattak's new party. Khattak has also extended invitations to several former MNAs and MPs to join his political venture.
A meeting was convened by Pervez Khattak at a private wedding hall in Peshawar on Monday, where the formal launch of the new political party took place.
Also Read: The Importance of Parental Vigilance and Guidance in Protecting Children
During the gathering, Khattak strongly criticized the events of May 9 and proclaimed that with the establishment of his new party, PTI has been entirely eliminated from Khyber Pakhtunkhwa.
It is worth mentioning that reports of Pervez Khattak forming a new political party had been circulating for the past few days, and during this period, the party's name and flag were also finalized.
In response to the creation of PTI Parliamentarians, Barrister Mohammad Ali Saif, the Information Secretary of PTI Khyber Pakhtunkhwa, expressed his reaction, stating that PTI's departure does not matter as the vote belongs to Imran Khan.
According to him, any attempt to dismantle PTI will fail, as the party's popularity has increased according to various surveys. The workers, supporters, and leaders remain united under Imran Khan's leadership.
Barrister Saif argued that Pervez Khattak's attempt to salvage his political career through the formation of a new party has been unsuccessful. PTI still stands as the most popular party in Khyber Pakhtunkhwa. The party's focus is currently on election preparations and organizational efforts.
He further emphasized that it does not concern PTI if individuals who were denied party tickets or expelled from the party join another political group. Those who leave the party have no future, as the vote bank remains loyal to Imran Khan. People are observing this drama unfold, and politicians like Pervez Khattak will face defeat in the elections.
Hits: 30