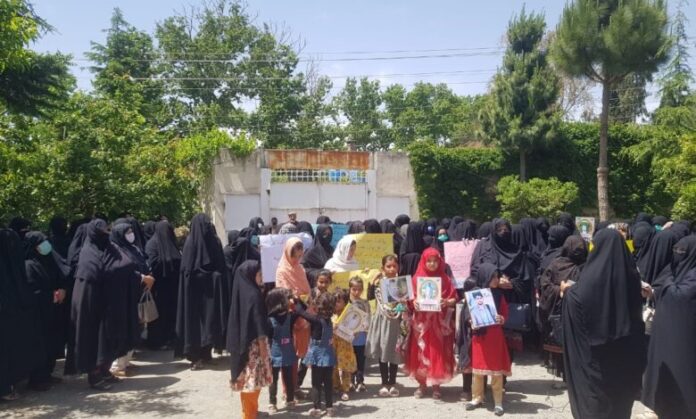 Ali Afzal Afzaal
Women teachers, along with children from across the district, staged a protest against the killing of teachers in the Tari Mangal area of Kurram district. The teachers were killed by armed men who took them hostage and killed them with axes.
The women teachers' leaders stated during the protest in front of Kurram Press Club Parachinar that the killing of teachers was the worst incident in history, and they have come out on the streets today along with children to protest against it.
The women protestors announced that they will continue their protest and condolence events in girls' schools until the killers are punished and the teachers are guaranteed protection. They also said that they will not go on duty in other tribal areas until protection is guaranteed.
Also Read: Internet shutdown in Kurram district following tragic school Incident
The protestors expressed regret that the students were killed in the presence of other teachers and the principal and demanded that all the persons present in the school at the time of the killing should be arrested and investigated.
After the protest demonstration, a condolence ceremony was organized in Girls High School Parachinar, in which Madam Jamila said that if the people involved in the murder of the teachers are not punished, such incidents will happen again.
Batool, an orphaned girl in the incident, asked the killers why her father was killed, and what was his fault.
Madam Noor Jabeen, another school teacher, said that not only have the children of the victims become orphans due to the killing of teachers, but more than two hundred teachers and their families who are performing their duties in remote areas are also suffering.
Tribal leader Haji Ali Jawad and businessman leader Haji Imdad Hussain addressed the women protestors and said that the incident of terrorism in Tari Mangal School was an atrocity against humanity, and that is why the women are protesting on the streets.
On May 4, a person named Muhammad Sharif was killed in a moving vehicle by unknown persons on Shalozan Road in the Kurram district.
After this incident, armed persons entered the Tari Mangal High School in the border area, and while firing, three workers, including four teachers, were killed. After the incident, transportation routes and all educational institutions in the area are still closed.
Hits: 25