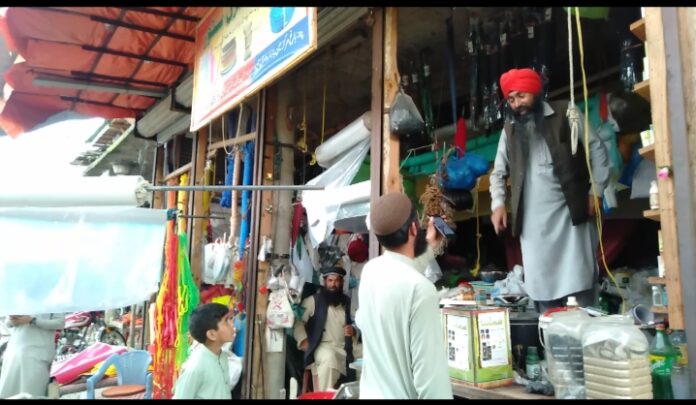 Khadim Afridi
In the picturesque Tirah Valley of Khyber district, hundreds of Sikh families are facing a challenging exodus from their businesses and homes to seek better living conditions elsewhere in the country. The primary reason behind this mass migration is the lack of essential facilities that have made daily life increasingly difficult. However, amidst this exodus, one resolute family, led by Manjeet Singh, remains in Tirah Valley's Maidan Shalobar area.
Manjeet Singh, a member of the Shalobar tribe entrenched in Tirah Valley, operates a general store in the bustling Bagh Bazaar. In an interview with TNN, he shed light on the circumstances that have led to the displacement of many Sikh families in the region. Following a period of unrest, a wave of migration swept through Tirah Valley, bringing with it hundreds of Sikh families. However, once peace was restored in Tirah Maidan, the internally displaced persons (IDPs) began returning to their homes, while Sikh families opted to stay away.
At present, only eight Sikh traders are sustaining businesses in the market, with their families residing in other parts of the country. These traders live in relative isolation in Bagh Bazaar. Manjeet Singh emphasized that Tirah Maidan holds a special place in his heart as his native homeland, complete with ancestral lands. Prior to 2013, Tirah Maidan was home to numerous Sikh families, but today, only a handful remains, with the rest having relocated to various parts of the country.
Also Read: North Waziristan Madakhel Tribe Stages Protest, Demands IDP Return and Reinstatement of Allowances
Despite these challenges, Manjeet Singh expressed satisfaction with his interactions with the Muslim community in Tirah Valley, noting that they have not encountered any issues or complaints. Nevertheless, the area's business activities have been severely impacted by rising unrest within Tirah Valley and nationwide inflation, affecting the local population.
Regarding religious practices, Manjeet Singh explained that he conducts his religious rituals at home. Gurdwaras that were once established across different parts of Tirah Maidan now stand deserted and dilapidated, victims of the harsh conditions endured in the past. Moreover, hundreds of homes belonging to the minority Sikh community lie abandoned, with no compensation provided to date. Manjeet Singh emphasized that they possess legitimate rights as citizens, but the Sikh community, hailing from different tribes in Tirah Valley, has been deprived of their rightful privileges.
Manjeet Singh called upon the government to construct cremation facilities at five different locations across Tirah Valley, with lands already earmarked by the Sikh community for this purpose. Responding to a question, he lamented that former Minority MPA Wilson Wazir had visited the area only once, making numerous promises that remained unfulfilled. This lack of follow-through has exacerbated their problems and challenges.
Another Sikh resident, Kalwan Singh from the Malik Din Khel tribe, operates a shop in Tirah Maidan while his family resides in Hasan Abdal. His house was destroyed during the harsh conditions of the past, forcing his family to relocate. Currently, he lives alone and manages a grocery shop in Bagh Bazar. Due to limited resources and essential amenities, only a handful of Sikh citizens maintain shops in Tirah Bagh Bazar, while hundreds have left their native regions for destinations such as Hasan Abdal and Nankana Sahib, located in other parts of the country.