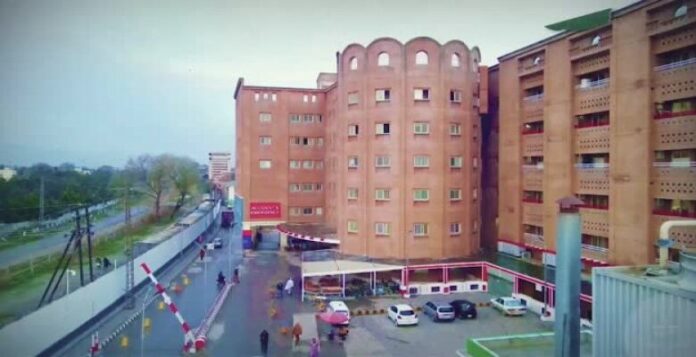 Halima Bibi, employed as a technician in the endoscopy department of Khyber Teaching Hospital Peshawar, was discovered deceased in the hospital's washroom.
As per the hospital administration, Halima Bibi exhibited injection marks on her body and blade-related injuries on her hands. To discern the circumstances, the body has been forwarded to the forensic laboratory of Khyber Medical College for a post-mortem analysis, with clarifications expected solely after the report's completion.
Dr. Zafar Afridi, the hospital director, stated that an investigative committee has been established, aiming to unravel the details surrounding the incident. While an autopsy is underway, it's yet inconclusive whether the cause was suicide or a murder. A precise determination awaits the chemical analysis findings.
Also Read: Gunmen Attack in Tank Bazaar: Constable Killed, Civilian Injured
Hospital sources suggest that deep injuries on both of Halima Bibi's hands indicate potential prolonged drug injection. Speculation points to the possibility of a drug overdose contributing to her demise. However, certainty will only arise following the release of the postmortem report scheduled for tomorrow.
Police reports indicate the presence of a syringe in the restroom alongside Halima Bibi's lifeless body. Preliminary indications suggest a potential drug addiction concern within the technician's history.
It's worth noting that Halima Bibi, 25 years old and the daughter of Gul Rez, hailed from Awan Banda Pabi district in Nowshera, held a semi-government position at Khyber Teaching Hospital for three years.
Halima's father, Gul Rez, operates an automotive shop in Peshawar. In conversation with TNN, he expressed surprise, sharing that Halima accompanied him to work daily and returned home with him during leave periods. He expressed disbelief that Halima, unmarried and seemingly in good mental health, had any involvement with drugs.
Hits: 16