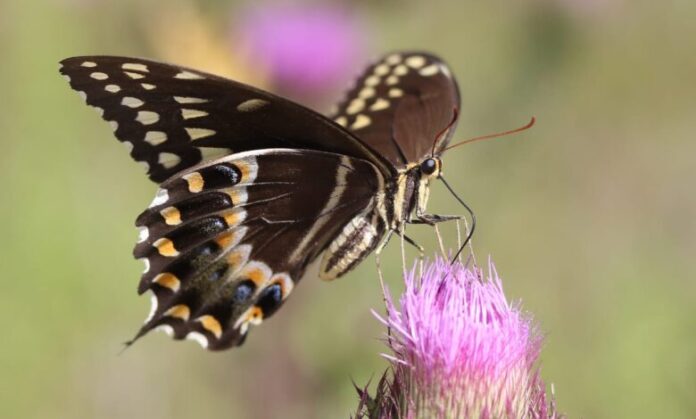 Haroon ur Rasheed
The 'Pakistan Butterfly Society' has enthusiastically joined in the regional celebration of Butterfly Month. To underline the significance of butterflies, they are planning organized walks across various cities.
Muhammad Akram Awan, a passionate butterfly researcher and the brains behind the Pakistan Butterfly Society, expressed that this marks the first time Pakistan is actively participating in September Butterfly Month within the South Asian region. The nation aims to promote butterfly monitoring, primarily through the use of photographs.
In August 2023, the Pakistan Butterfly Society took flight, enlisting members from various cities across the nation. They've launched their own Facebook page and are actively capturing butterfly images from diverse regions.
Akram emphasized the crucial role of documenting butterfly populations to assess ecological impacts on an area. Butterflies, due to their delicate and sensitive nature, are often the first casualties of environmental degradation. The flourishing of butterflies signifies a healthier environment, while their decline serves as an environmental warning.
Also Read: KP's Administrative Crisis Deepens Amid Political Interventions
To celebrate Butterfly Month in Pakistan, they've arranged a series of walks, commencing in Swat in the second week of September. These walks will involve Pakistan Butterfly Society members, and college and university students. They plan to visit schools to educate students about the significance of butterflies and later organize a walk in Mingora, Swat, involving participants from various walks of life.
Following the Swat event, similar activities are slated for Karachi and Islamabad this month, with the aim of raising awareness about the importance of butterflies.
Akram also shared that all data collected, including butterfly information and images from different regions of Pakistan, will be uploaded to the international web portal 'iNaturalists'. This portal serves as a global database for collecting data on various butterfly species and their populations across different regions. To make the information more accessible to the local population, the Pakistan Butterfly Society is working on translating the names of butterfly species into Urdu, Pashto, and Balochi languages.
Akram highlighted several threats leading to the declining butterfly population in Pakistan, including habitat fragmentation, forest degradation, loss of flowering plants, pollution, and pesticide use in agriculture. He pointed out that global warming poses a significant threat to butterflies due to extreme weather conditions, including heatwaves and cold spells.
There are approximately 28,000 butterfly species worldwide, with 80% of them found in warm regions like South Asia. Butterflies play a vital role in maintaining environmental balance and are a crucial component of the animal food chain.
While there are data indicating a 58% global decrease in butterfly populations over the last fifteen years, there are currently no reliable data available for Pakistan regarding this decline.
Jalwat Huma, founder of the Rangeet Welfare Organization, which teaches street children the art of painting, shared that besides their contribution to environmental beauty, butterflies hold a significant place in art and painting. They bring joy and smiles to people's faces. Butterflies have been a symbol of transformation, love, and various emotions throughout history, representing everything from friendship to beauty. They also embody freedom and the joy of life.
Huma highlighted the butterfly's divine beauty and its importance as a subject in stories and poetry. She emphasized that the decline in the butterfly population could lead to a substantial loss in environmental beauty. Authorities, she suggested, should establish nurseries to protect and foster butterflies through well-thought-out plans and efforts, ensuring their continued existence in various patterns and colors.
Hits: 28