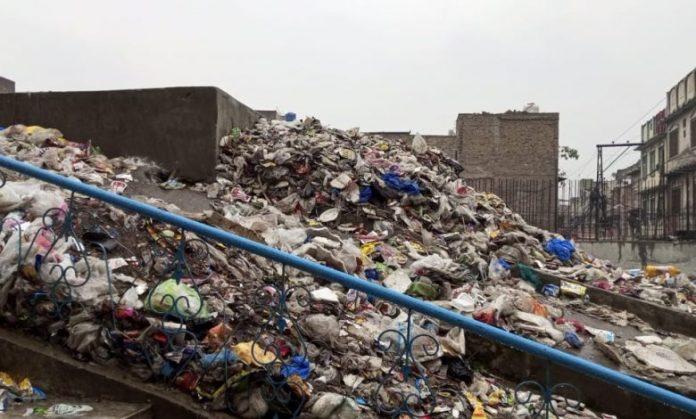 Maria Saleem
We have been reading in books that Pakistan has one of the largest canal systems in the world. However, it would not be wrong to add that Pakistan canal system is not only largest but also one of the most polluted one in the world.
At least a visit to the Kohati and Sarki canals in Peshawar city evokes this feeling. Shops and homes have been built around this canal and district government has also setup a fence around it in order to maintain the canal. Unfortunately, public which always blames the provincial government for all ills; they themselves turn every initiative launched for public benefit into disaster.
Huge amount of trash and garbage has been thrown into this canal which besides foul odor could also lead to disease outbreak. In addition to this, it is also breeding ground for mosquitoes and flies.
One's blood boils upon seeing this garbage in the heart of the city. Also we run awareness campaign to end pollution in books, TV and seminars; however, take no real steps.
We do not keep our surrounding clean and our future generations are likely to face the consequences. Due to our reckless attitude, environmental pollution and global warming is increasing. Also their impact could neither be ignored nor could it be reversed. Sooner than later we have the face the consequences of our actions. Therefore, we need to change ourselves in order to protect our own and children future.
On the other hand, KP government had planned start de-silting of canals across the province. Though at this moment it is not clear if the campaign has been started or otherwise. But am sure even if de-silting is carried out, day after the campaign we will again start throwing garbage into the canals.
Throwing excessive amounts of garbage can block the canals and water can inundate them. In addition to this, polluted waters from these canals also endanger the aquatic life in rivers. Our negligence could create life and death issues for many living beings.
Acting as responsible citizens and taking care of cleanliness of environment and ourselves, we can live a full and healthy life.
This is opportune time to change our attitudes for ourselves and our loved ones and teach the same habits to children.
A small effort on our part to save environment can protect life on earth and this way we can at least slow down the climate change, if not overcome it.
Hits: 14