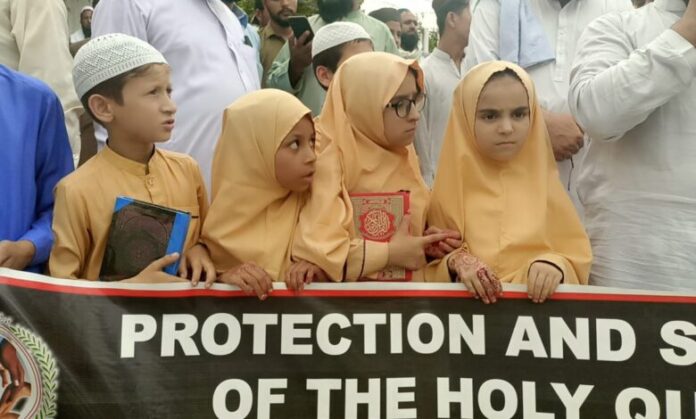 Today, Holy Quran Day is being celebrated nationwide as protests are planned in Sweden against the desecration of the Holy Quran. Prime Minister Shahbaz Sharif called upon the entire nation to participate in the protests following Friday prayers. The decision to observe this day was made during a meeting chaired by the Prime Minister in Islamabad.
After Friday prayers, peaceful protest processions will take place across the country to condemn the desecration of the Holy Quran in Sweden. People from various backgrounds will join these processions to express their strong condemnation of the incident.
Additionally, scholars from different schools of thought will deliver sermons during Friday prayers, emphasizing the sanctity of the Holy Quran. Yesterday, the joint session of Parliament approved a resolution denouncing the hateful act in Sweden with a majority vote.
Also Read: Tragic Case of Woman Allegedly Hanged to Death in Peshawar's Achar Village
The resolution, presented by Federal Minister of Parliamentary Affairs Murtaza Javed Abbasi, strongly condemns the desecration of the Holy Quran in Sweden and calls for international attention to prevent such incidents. The resolution highlights the House's belief in respecting and honoring the sacred books of all religions, urging Swedish authorities to take appropriate action and prevent similar incidents in the future.
Furthermore, the resolution emphasizes the need to combat Islamophobia and the spreading of hatred against religion, calling for measures to address these issues through the Islamic Summit Forum and future planning. Following the passage of the condemnation resolution, the joint session of Parliament adjourned until 5 pm on July 25.
It should be noted that the desecration of the Holy Quran has triggered profound sadness in Muslim countries, leading some nations to recall their ambassadors from Sweden. Many countries have also summoned the Swedish ambassador to express their protest against the incident.
Hits: 0