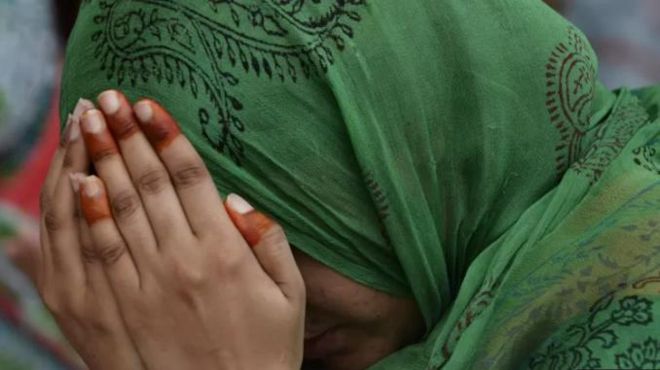 Aftab Mohmand
In a tragic incident, a 20-year-old woman named Seema was allegedly hanged to death in Achar village Bahadur Kaly, Peshawar. The victim's father, Wali Khan, reported the incident to the police, leading to the registration of a case and the subsequent arrest of the accused.
According to Wali Khan, Seema had been married to Umair, a resident of Bahadur Kaly, three years ago. The couple has two children together, a two-year-old son named Azan and a 10-month-old daughter named Aisha.
For the time being, the children have been shifted to their maternal grandfather's house. Umair works at a sweet shop in Peshawar, and his family hails from Tor Ghar, while Seema's family is from the Mardan district.
Also Read: Shangla: Landslide at Cricket Ground Claims Lives of Eight Children
In the initial years of their marriage, Seema used to complain about her mother-in-law whenever she visited her parents' house. However, her parents tried to counsel her, explaining that domestic disputes are common and she should strive to maintain a good relationship with her husband and in-laws. Despite occasional disagreements, Seema was encouraged to be patient and was sent back to her husband's house.
On one occasion, Seema confided to her parents that her husband, Umair, had been threatening her with divorce. However, her parents reassured her and advised her to work towards a harmonious married life instead of engaging in conflicts.
There was even a time when the deceased daughter and son-in-law were invited to stay at her parent's home, but eventually, Umair returned to his own house at the insistence of his parents.
Seema was often distressed by the behavior of her mother-in-law, despite her own scholarly background. Wali Khan described his daughter as a patient individual.
Tragically, Wali Khan received the shocking news of his daughter's death recently. When he reached Umair's house, he discovered Seema's lifeless body. There were visible rope marks on Seema's neck, and a rope was found in her room. The Rehman Baba police station immediately registered a case against Umair, his mother, and one of Umair's brothers.
The victim's parents are now awaiting the post-mortem report, hoping that justice will be served and the accused will be punished in accordance with the law.
The Rehman Baba police informed TNN that an investigation team, including female officers, has been formed to gather evidence and statements from relatives and friends using modern scientific methods.
During the investigation, the police arrested Umair, his brother Fazal Amin, and their mother. Initially, they tried to portray the incident as a suicide, but later, they confessed to the investigation team that Umair, Fazal Amin, and their mother had conspired to hang Seema.
The accused admitted that domestic violence led to the alleged murder, as they allegedly put a noose around Seema's neck.
The Rehman Baba Police have registered a case against the accused under Section 302, and the murder instrument has been recovered. Further investigation into the incident is currently underway.
Hits: 28