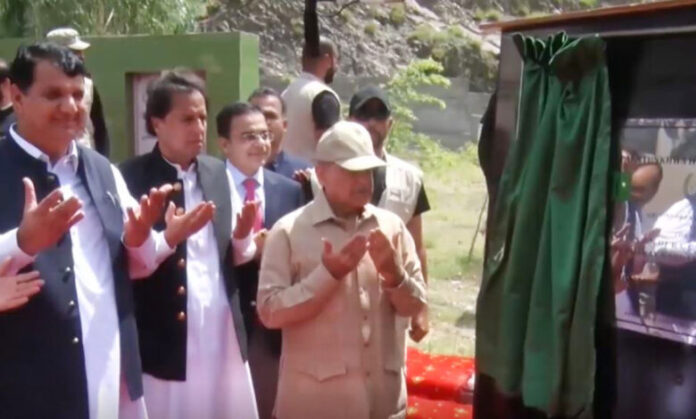 Prime Minister Mian Muhammad Shehbaz Sharif inaugurated a series of infrastructure projects in the Tor Ghar district, with a total cost exceeding 4 billion rupees.
The Prime Minister's visit to the underdeveloped district of Tor Ghar in Khyber Pakhtunkhwa took place on Thursday. Accompanying him were Federal Minister for Information and Broadcasting Maryam Aurangzeb, advisors Engineer Amir Maqam and Ahad Khan Cheema, Muslim League leader Captain (R) Safdar, and former MPA Sardar Yusuf.
During the visit, Prime Minister Shehbaz Sharif chaired a meeting to discuss the projects. Chief Secretary Khyber Pakhtunkhwa Nadeem Aslam Chaudhry, IG Police Akhtar Hayat Gandapur, Deputy Commissioner Tor Ghar Ziaur Rehman, and other government and military officials were also present.
Also Read: The Assassination of Lord Mayo by Sher Ali Afridi: Unveiling the Conspiracy
Chief Engineer Center C&W Department Muhammad Tariq briefed the Prime Minister on the projects. The first project highlighted was constructing a 25 km inter-district road connecting Tor Ghar to Buner, Hazara, and Malakand divisions, with an estimated cost of 4.72 billion rupees. This road will improve transportation and boost tourism and trade in the region.
Additionally, the construction of the Buner Karakar Tunnel, with a cost of 9.58 billion rupees, was discussed. This tunnel, spanning one kilometer, will not only reduce the distance by 11 kilometers but also save fuel and time. It will connect the Buner district to the Swat Motorway.
The third significant project mentioned was the construction of an RCC bridge over the River Indus, with a total cost of 9.96 billion rupees. This bridge holds particular importance as it will shorten the distance by 250 km. Its length will be 876 meters.
Prime Minister Shehbaz Sharif emphasized the importance of timely completion and high-quality execution of these projects. The federal government is fully committed to supporting their completion and ensuring the allocated funds are utilized appropriately.
He acknowledged the visionary thinking of Quaid Mian Nawaz Sharif, whose ideas have laid the foundation for these projects. Their completion will pave the way for development in Tor Ghar, which was previously neglected during the previous government's tenure marked by corruption. The Prime Minister urged expedited work on the ongoing projects, promising cooperation from the central government in every possible way.
Regarding the RCC bridge, he described it as a game-changer for the region and urged round-the-clock work by expert contractors. He set a one-year deadline for the completion of the bridge instead of the initial three years, emphasizing the need to usher in a new era of development and prosperity in the area.
Hits: 40