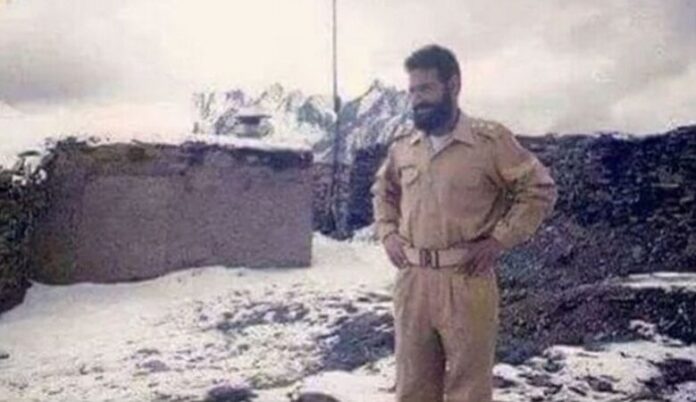 The 24th Death Anniversary of Captain Colonel Sher Khan Shaheed, hailing from the Swabi district of Khyber Pakhtunkhwa, is being commemorated today.
In honor of this occasion, a ceremony was held at the martyr's shrine, attended by Corps Commander Peshawar Lt. Gen. Hasan Azhar Hayat and other dignitaries.
Speaking to the media, Colonel Sher Khan Shaheed's nephew expressed that his life and martyrdom serve as an exemplary model. Colonel Sher Khan displayed immense bravery on the battlefield and made the ultimate sacrifice.
Captain Colonel Sher Khan was the first officer to be directly appointed to the 27 Sindh Regiment from the Military Academy.
Also Read: Afghan Women Stripped of Rights, Beauty Salons Banned
For his martyrdom in the Kargil battle, Captain Colonel Sher Khan Shaheed was posthumously awarded Nishan e Haider, the highest military award in Pakistan. The enemy recognized his courage, bravery, love for the country, and indomitable spirit.
Having achieved the rank of captain in 1996, Colonel Sher Khan Shaheed was also renowned for his exceptional marksmanship skills. He possessed great confidence in his abilities and actively participated in every shooting competition at PMA (Pakistan Military Academy).
On the 24th martyrdom anniversary of Captain Colonel Sher Khan Shaheed, the army and military leadership paid tribute to his memory.
In a statement released by ISPR (Inter-Services Public Relations), it was emphasized that Captain Colonel Sher Khan's unparalleled bravery continues to inspire us. He etched an everlasting history of courage and patriotism. The Martyrdom Day of Captain Colonel Sher Khan stands as a testament to the sacrifices made by our forces for the nation.
Scholars affirm that we breathe in a free atmosphere due to the sacrifices of our martyrs. Their sacrifices teach us the importance of unity and solidarity. Nations that fail to honor their martyrs face humiliation and disgrace.
Hits: 4