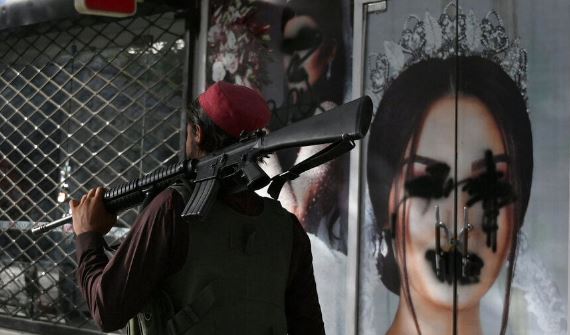 Khalida Niaz
"The Taliban is disregarding the establishment of peace in the country and the improvement of people's lives. Instead, they are stripping women of their basic rights. Will Afghan women be forced to seek makeup services in other countries?"
These words were spoken by Sadia (pseudonym), a 22-year-old resident of Nangarhar. Sadia informed TNN that since the Taliban assumed control of Afghanistan, women's rights have been denied. Initially, women's schools were closed, and then it was decreed that women could not leave their homes without a male companion (Mehram). Now, beauty salons have been banned.
Also Read: Appeal Made to Ban Transgenders and Aerial Firing at Events in Khyber Landikotal
It is worth noting that yesterday, the Taliban government in Afghanistan ordered the closure of all beauty salons, including those in Kabul and other areas of the country.
Muhammad Sadiq Akif, the spokesperson for the Taliban's Ministry of "Invitation, Guidance, Enjoining the Good and Forbidding the Evil", stated on Tuesday that women's beauty salons in Afghanistan have been given only one month before they must close down.
Previously, the Taliban prohibited girls from attending high schools and universities, as well as forbidding them from working, going to public places, and visiting gyms.
Sadia questioned why all these restrictions were imposed on women and not on men. She emphasized that the Taliban had done nothing for the well-being of women or the general population. The situation in the country is extremely dire, and people have become economically vulnerable, yet the Taliban appears unconcerned.
Expressing her confusion, Sadia pondered the ban on beauty salons, saying, "What is the point of women wearing makeup in beauty salons if they are going to be covered? Would they have to go to another country?"
She demanded that the ban on beauty salons be lifted, and stressed the importance of providing women with education and other essential facilities.
According to a report by BBC Pashto, the ban on salons may result in up to 60,000 women losing their jobs. The report indicates that there are over 3,000 beauty salons in Kabul and more than 12,000 throughout the rest of the country, employing an average of 5 to 6 women per salon.
UNAMA, the United Nations Assistance Mission in Afghanistan, has condemned this ban as a violation of women's rights and predicts a negative impact on the country's economy.
It should be remembered that when the Taliban seized control of the country in August 2021, they initially claimed they would not impose any restrictions on women. However, gradually, the Taliban has introduced laws that have caused great concern among women.
Ayesha, a resident of Kabul, expressed how women's lives have become miserable since the Taliban's arrival. Women have lost access to recreational opportunities, and educational opportunities have been denied to them as well.
Regarding the recent ban, Ayesha questioned the harm caused by beauty salons, emphasizing that it does not harm anyone. She expressed her confusion over the Taliban's reasoning behind banning beauty salons.
Previously, the Taliban in Afghanistan had prohibited women from traveling alone. They stated that women traveling more than 72 kilometers must be accompanied by a male relative, without whom they would be denied the right to travel. The Taliban also warned car owners not to transport women without a hijab in their vehicles.
Hits: 14