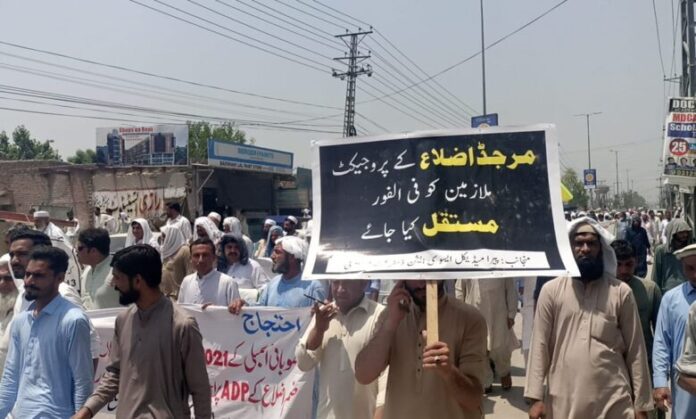 Aftab Mohmand
The employees of the Paramedics Association of Khyber Pakhtunkhwa took to the streets to voice their concerns and demands regarding salary freeze, promotions, and various other issues.
During a protest demonstration in Peshawar, Sharafatullah Yousafzai, the president of the Paramedics Association of Khyber Pakhtunkhwa, highlighted the grievances of the paramedics. He stated that despite being recruited at the 12th scale across the province, many paramedics have not been promoted for several years, solely based on seniority.
Yousafzai mentioned that currently, around 22,000 paramedics, including over 3,000 female employees, are working in various hospitals across the province. However, there are numerous vacant posts ranging from grades 14 to 17, which are meant for the promotion of paramedics, yet the provincial health ministry and health department have remained silent on the matter.
Also Read: PTI Terminates Membership of Former Chief Minister Pervez Khattak
He also expressed concerns about the lack of allowances, including fuel, that these employees are entitled to receive. The paramedics have previously taken to the streets and continue to hold demonstrations intermittently to advocate for their demands.
During the COVID-19 pandemic, around 1,000 EPI technicians were hired in the province. Additionally, other employees such as Health Centres (HC) and Medical Practitioners (MP) were recruited, but later terminated without valid reasons and were not paid their full salaries. The association demands regularization and timely payment of salaries for all employees.
President Sharafat Yousafzai highlighted that the salaries of paramedics working in Medical Teaching Institutions (MTI) hospitals are consistently delayed, which is deemed unacceptable by the association.
Furthermore, the association officials emphasized the need for senior paramedic staff to be appointed instead of non-paramedic staff in key positions such as controllers and registrars of paramedics in the faculty.
They further highlighted unresolved issues, including the permanency of Integrated Health Project (IHP) employees, scale promotions for Gavi employees, and promotions for senior paramedics. Despite assurances made on March 9, 2021, by the former Provincial Health Minister Taimur Saleem Jhagra and the Secretary of Health to address these problems, no practical steps have been taken so far.
In response to the protests, the Khyber Pakhtunkhwa Health Department officials stated that a committee is being formed to address the issues raised by the paramedics.
The committee will include the caretaker provincial health minister, secretary of health, director-general of health, and representatives of the paramedics association. All the aforementioned issues will be thoroughly reviewed and resolved.
Hits: 12