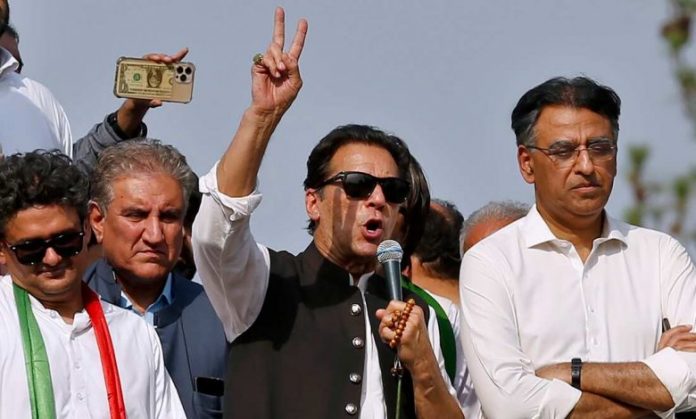 The Pakistan Electronic Media Regulatory Authority (PEMRA) on Sunday banned broadcasting and re-broadcasting former Prime Minister Imran Khan's speeches and statements on all satellite TV channels.
An order issued by PEMRA on Sunday read, 'It has been observed that Mr Imran Khan, Chairman Pakistan Tehreek-e-Insaf, in his speeches/statements is continuously leveling baseless allegations and spreading hate speech through his provocative statements against state institutions and officers which is prejudicial to the maintenance of law and order and is likely to disturb public peace and tranquility."
It further said that airing hateful, slanderous, and unwarranted statements against state institutions is "in sheer violation of Article 19 of the Constitution and a judgment of the Supreme Court."
It has been observed that such content was telecasted by TV channels without effective utilization of a time-delay mechanism in violation of provisions of PEMRA laws as well as judgments of the apex courts, the regulatory authority further added.
"Therefore, the competent authority i.e. Chairman PEMRA…hereby prohibits broadcast/rebroadcast of speech(s)/press talks (recorded or live) of Mr Imran Khan on all satellite TV channels with immediate effect," stated the PEMRA order.
The regulatory body also directed all satellite TV channels to ensure that impartial editorial boards be constituted, as required under Clause 17 of the Electronic Media (Programs and Advertisement) Code of Conduct 2015, to ensure their platforms are not used for airing contemptuous remarks or hateful or prejudicial statement against state institutions or in the interest of public law and order.
In case of non-compliance, the authority warned the TV channels that their license would be suspended.
PEMRA had prohibited the broadcast and re-broadcast of speeches and press conferences of the PTI chairman in August and then in November last year as well, only to be set aside by the Islamabad High Court in the first, and then revoked by the federal government the same day in the second case.
Hits: 6