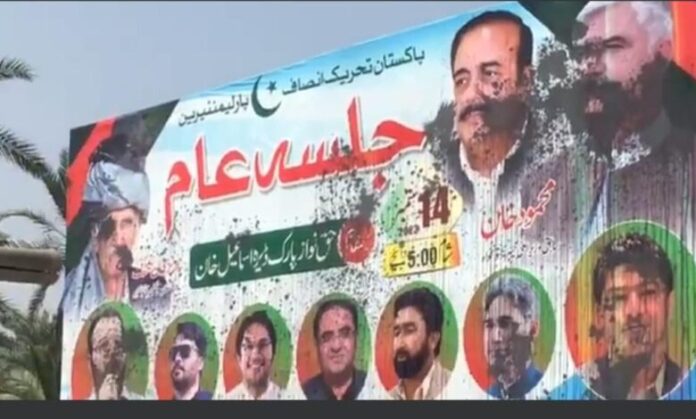 Muhammad Faheem
Today, Pervez Khattak is set to host a political gathering (Jalsa) in Dera Ismail Khan, a move aimed at challenging Pakistan Tehreek-e-Insaf's (PTI) stronghold on the region's voter base. A robust campaign effort preceded this event, marked by days of grassroots meetings.
PTI parliamentarians will join forces to stage this public gathering in Dera Ismail Khan, continuing a trend of similar gatherings. Notably, two prior events were held, one in Nowshera (Khattak's native area) and the other in Mansehra, where challenges arose due to difficulties attracting large crowds and strong local opposition.
In Mansehra, during Pervez Khattak's convoy route, citizens held 'lotas' (water containers) and hung them at various locations, registering their disapproval. However, the rally proceeded as planned. Ahead of today's meeting in Dera Ismail Khan, banners and panaflexes featuring Pervez Khattak and Mehmood Khan had their images defaced with ink, hinting at potential obstacles for PTI in the region.
Also Read: Controversy Erupts Over Peshawar Police's Nighttime Movement Restriction Order
To challenge the voter base of PTI, led by former Chief Minister and party chairman Imran Khan, new parties have emerged, such as the "Istehkam e Pakistan Party" in Punjab and "PTI Parliamentarians" in Khyber Pakhtunkhwa. Both were established by close associates of Imran Khan, yet their approaches diverge.
According to senior journalist Abdullah Jan of Independent Urdu Islamabad, Jahangir Tareen and Pervez Khattak employ distinct strategies. Pervez Khattak, a grassroots politician with experience ranging from local elections to provincial and national assembly constituencies, is a former chief minister. Despite facing public resistance, he actively engages with the people. In contrast, the Istehkam e Pakistan Party comprises prominent figures who make decisions in closed-door settings, without any notable public gatherings. Abdullah Jan emphasizes that Pervez Khattak, despite the challenges, seeks ground-level support—a key distinction between him and Jahangir Tareen.
Pervez Khattak's team includes former Chief Minister Mehmood Khan, former adviser Ziaullah Bangash, former minister Ishtiaq Urmar, and over 30 former members of parliament, including Iqbal Wazir. However, this new party faces criticism from within the PTI ranks. Conversely, the Istehkam e Pakistan Party, despite its prominent members, struggles to gain traction.
Mubasher Bukhari, a senior journalist from Lahore, comments on Pakistan's political stability. He notes that differences between Aleem Khan and Jahangir Tareen over party positions and campaigning have surfaced within the Istehkam e Pakistan Party. Meanwhile, the party lacks a clear strategy for ticket distribution and future plans. In contrast, Pervez Khattak's direction is evident, as he actively connects with people, employs 'electables', and leverages his understanding of constituency politics to navigate challenging situations. Pervez Khattak's approach relies on public relations and a deep connection with the electorate, setting him apart from Jahangir Tareen.
Hits: 12