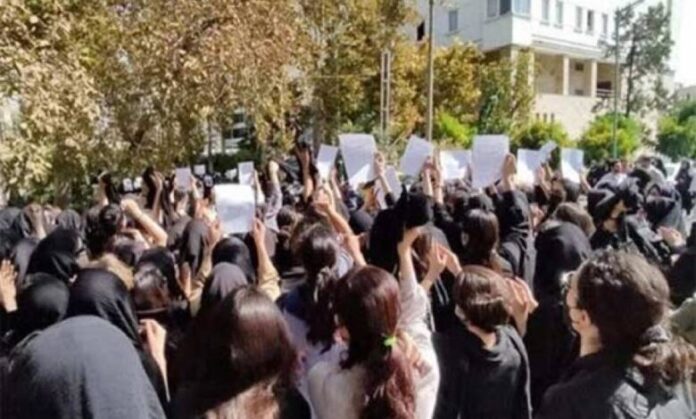 Aftab Mohmand
Students of Government Commerce College for Women in Peshawar have taken to the streets to protest against the management of Zaryab Degree College for Girls, accusing them of attempting to take over their college. The students claim that they are facing harassment and pressure to vacate the college building, which has left them deeply concerned about their educational future.
During the protest, a female student was recording a video when a staff member from Zaryab Degree College forcefully seized her mobile phone and damaged it. In response, the enraged students resorted to vandalizing the college premises.
Following the incident, officials from the education department visited the college and assured the students that they would address the issue. However, the parents of the female students expressed their worries, alleging that political influence was being exerted in this matter.
Also Read: PTI Leaders Seek Case Details and Avoid Arrest in Court Application
They called upon the Director General of Commerce Education and Management Sciences, Secretary of the Higher Education Department, Director of Colleges, relevant ministry officials, and the caretaker Chief Minister of Khyber Pakhtunkhwa to intervene immediately and find a peaceful solution to the problem so that their daughters could continue their education without disruption.
It is important to note that the Government College of Commerce Peshawar, established in 1959, had a boys' hostel adjacent to it. Later, a separate college named Government Girls College of Commerce was established for female students during the rule of the Awami National Party. Subsequently, the college was renamed 'Alamzeb Shaheed College of Commerce for Girls' in honor of a former ANP MPA who was martyred in a suicide blast.
Two and a half years ago, the Government Girls Degree College in Zaryab Colony, Peshawar, which was initially located in a rented building, was shifted to the current location at the request of the Khyber Pakhtunkhwa Education Department. Currently, hundreds of girls are enrolled in both colleges.
According to the management of Commerce College for Women, the dispute with Zaryab College arose two months ago when the management of Zaryab College demanded that they relocate the college to another place.
The Commerce College had initially offered space to accommodate Zaryab College for the betterment of girls' education, but now they feel that Zaryab College is conspiring to remove them. They argue that the Zaryab College administration should either be transferred elsewhere or take responsibility for managing their own college.
There are five commerce colleges for girls in Khyber Pakhtunkhwa, including two in Peshawar, one in Mardan, one in Swabi, and one in Abbottabad. If the commerce college in Peshawar is abolished, over 400 girls currently studying there will lose their education, putting their academic future in jeopardy.
Hits: 18