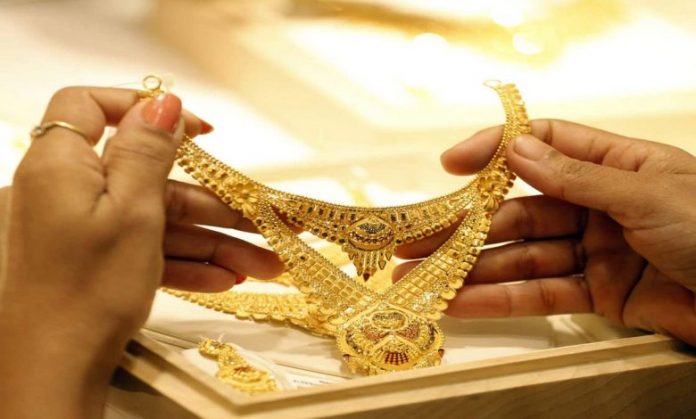 Aftab Mohmand
The gold market in Peshawar is facing the impact of the increasing value of the dollar and the country's poor economic situation. According to the businessmen and shopkeepers of Sarafa Bazaar, the largest market in Khyber Pakhtunkhwa located in Peshawar, many money exchangers and gold traders have been compelled to leave the market due to unfavorable business conditions. Some of those who left the gold business have resorted to driving rickshaws or opening small grocery stores.
Previously, each shop used to employ a shopkeeper, two or three assistants, and at least five apprentice artisans, but now most shopkeepers have had to lay off the additional staff. Currently, only one assistant and at most two apprentices are working in each shop, while some artisans are struggling by resorting to using carts.
Also Read: Central Ruet-e-Hilal Committee to Convene for Moon Sighting in Pakistan
In a special interview with TNN, senior officials of Sarafa Bazar including Haji Farhad Saraf (Senior Vice President), Bakhtiar (General Secretary), Ghufran Saraf, and Abdul Wahab Saraf (Information Secretary), explained that since international gold trading is conducted in dollars, the fluctuation in dollar prices directly impacts the gold prices. Whenever the value of the dollar rises or falls, gold prices follow suit, affecting markets in our country and elsewhere. As the value of the dollar is not stable, gold prices tend to vary, sometimes becoming expensive and at other times decreasing in value.
They further stated that the gold business and prices in Pakistan are dependent on the stock exchange. Whenever there is a positive trend in the stock exchange, the price of gold fluctuates accordingly. Conversely, during a bearish trend, the price of gold tends to increase.
The gold in Sarafa Bazaar Peshawar is usually imported from Dubai and Saudi Arabia, making the market here dependent on the markets of these countries. However, since the business is conducted in dollars, it is mostly influenced by dollar prices.
Abdul Wahab Saraf mentioned that not too long ago, in 2017 or earlier, the price of one tola of gold in Sarafa Bazaar Peshawar ranged between 40,000 and 50,000 rupees. However, due to the recent economic challenges and the high value of the dollar, the price of one tola of gold has now increased to approximately 218,000 rupees, while 'Khakhta' (brick gold) is available for 227,000 rupees. Under such circumstances, the gold business has been adversely affected, leading many shopkeepers to leave the market. The number of goldsmiths and apprentices has naturally decreased.
Abdul Wahab Saraf explained that gold is sold in Peshawar in two forms: "Pond Pasa" and "Khakhta" (brick gold). People use "Pond Pasa" to make jewelry, rings, necklaces, and other items for weddings and special occasions, while "Khakhta" is purchased as an investment. If someone who owns brick gold suddenly needs money, they sell it; otherwise, they keep it. One of the main reasons for the preference for "Pond Pasa" over "Khakhta" is that people perceive the weight of brick gold to be more, assuming its price would be higher. Consequently, they tend to avoid buying "Khakhta." However, as more people are now unable to afford "Pond Pasa," brick gold has gained more value. Despite this, only a small number of people now visit the market to buy brick gold for personal use, compared to before.
He further added that shopkeepers benefit more from "Pond Pasa" as they save a small amount of gold from the work they do, which they can use for other purposes. However, it should be noted that shop rents have increased, electricity bills have risen, the prices of goldsmithing equipment have gone up, and the fees for artisans and apprentices have also increased. Moreover, the burden of taxes is heavy, impacting the Sarafs (gold traders) significantly.
A decade ago, people from all regions of Khyber Pakhtunkhwa used to purchase gold not only for weddings but also for other joyous occasions. Similarly, many people used to give gold as gifts. However, now, due to the prevailing high inflation, no one can even think of giving gold as a gift.
Abdul Wahab further explained that ten years ago, around a thousand people used to visit Sarafa Bazaar every month for shopping purposes, but now the number has significantly declined to less than a hundred. Despite the lack of customers, they continue to serve throughout the day.
Previously, in addition to local designs, affluent individuals used to request sets or unique designs inspired by Dubai or Singapore. However, due to the rising costs, such requests have diminished. Previously, people would purchase five to ten tolas of gold for weddings, but now most people are compelled to buy only one or two tolas.
According to officials of Sarafa Bazaar, they do not anticipate a swift recovery of the gold market. The ongoing economic situation of the country, coupled with severe inflation, has not only affected the general public but also the "Saraf" community. There is a fear that more individuals may abandon this business and seek alternative livelihoods or resort to daily wage work in the future.
Hits: 84