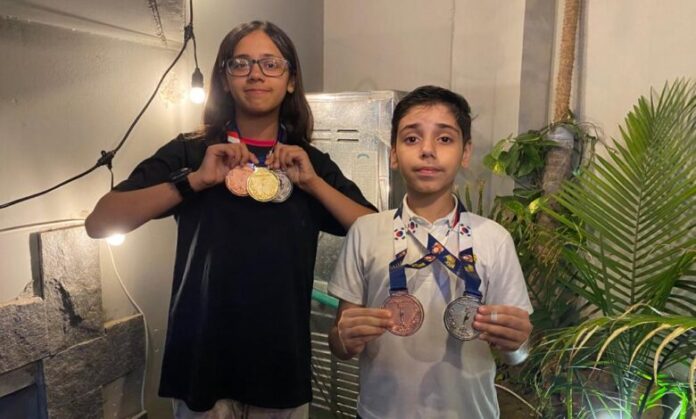 Zeeshan Kakakhel
Sana, a resilient mother hailing from Peshawar, had an unwavering dream since her children's childhood: to see them become successful taekwondo players, despite opposition from family and friends. Her unyielding belief in her children's potential, Ayan and Waniya, has borne fruit as they secured gold and silver medals in international competitions held in Bangkok, Thailand. Their remarkable achievements not only brought pride to Pakistan but also underscored the power of dedication and hard work.
Sana vividly recalls the challenges she faced in pursuing this dream. Even her closest family members, including her sister, brother, and parents, questioned her decision to introduce her children to the rigorous world of martial arts. Taekwondo was seen as an unconventional choice, met with skepticism by many. Nevertheless, Sana remained resolute in her conviction that her children would one day elevate the nation's name on an international stage.
The success of Ayan and Waniya is a testament to their unwavering commitment to their craft. The siblings dedicate three to four hours daily to rigorous practice at the Hayatabad Sports Complex, relentlessly honing their skills. Their pursuit of excellence extends beyond the sports complex, as they tirelessly work to improve their abilities even at home. This unwavering dedication has been the cornerstone of their success.
Also Read: Swat University Expels 16 Students Who Protested Alleged Harassment
Despite facing criticism and skepticism from close relatives, Sana remained steadfast in her pursuit of her children's sporting dreams. Her decision to introduce them to taekwondo was met with constant taunts, with many questioning why she allowed her children to enter a sport often perceived as physically demanding and unconventional for youngsters.
Sana's sacrifices and unwavering support for her children have borne fruit. Ayan and Waniya's remarkable journey led them to the finals of the South Asian competitions held in July. In an impressive display of skill and determination, Waniya secured the gold medal in the finals, while Ayan clinched the bronze. Their achievements were not only a personal victory but also a gift to the people of Pakistan, including their proud mother.
Sana's determination to see her children succeed knows no bounds. She managed to fund her children's trip to Thailand independently, as her requests for support from government and sports department authorities went unanswered. Despite being a housewife herself, Sana had harbored dreams of representing her country in sports during her youth. Unable to fulfill her own aspirations, she now channels her energy into helping her children achieve greatness in the sporting arena.
The young champions, fresh from bringing fame to Pakistan in the South Asian competitions in Bangkok, have wasted no time in resuming their rigorous training in Pakistan. Ayan, aged ten, and his twelve-year-old sister Waniya, both fifth-grade students, are grateful for their achievements. They attribute their success to the unwavering support of their parents and the relentless hard work of their coaches and teachers.
Waniya reflected on her remarkable journey, proudly sharing that she triumphed over competitors from 13 countries, including formidable opponents from India, Bangladesh, Sri Lanka, Indonesia, and Malaysia, during the South Asian competition. Her mother firmly believes that with the right guidance, Waniya has the potential to become one of the world's top athletes.
Engineer Ghassan, the proud father of these young athletes, highlighted Waniya's dedication to taekwondo. He noted that she has been actively participating in the sport for five years, consistently winning medals in regional and national competitions. Her ambitions now extend to reaching G-1, G-2, and G-3 levels, and she draws inspiration from international players like Cobra, learning invaluable techniques from their instructional videos.
Hits: 23