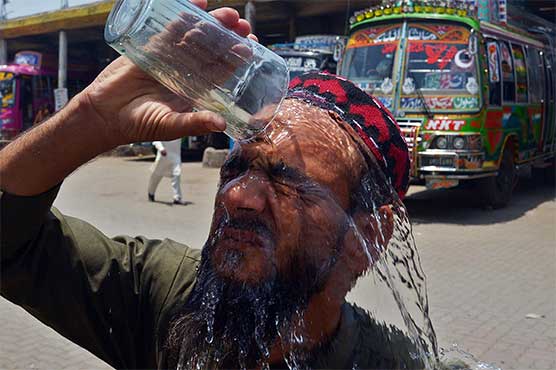 The Pakistan Meteorological Department (PMD) has warned the intensity of heat this year will be more than ever across the country, and there are chances of heat stroke in Peshawar, Dera Ismail Khan, Lakki Marwat, Kohat, Mardan, Swabi, and Charsadda districts of Khyber Pakhtunkhwa.
This year, the northern areas of Khyber Pakhtunkhwa and Gilgit-Baltistan are likely to receive less rain than usual, said the Met Office in a statement.
Likewise, environmental experts also warned that the increase in heat and less rain in the country will have a negative impact on crops and underground water.
According to Dr. Muhammad Faheem, an assistant director at PMD Peshawar, due to the increase in the intensity of heat, there is a fear of early harvest in most areas of Khyber Pakhtunkhwa, which may cause a decrease in crop yields.
"While the melting of snow due to rising temperature in the mountainous areas can also increase the risk of flooding", He said.
Temperatures to remain above normal during Ramadhan
On the other hand, the Met Office predicted the temperature will be higher than normal during the month of Ramadhan, which starts in the third week of March.
Rain in some areas will provide temporary relief, but overall temperatures will remain above normal throughout the country. It said in a statement.
Zaheer Ahmed Babar, a director at the PMD, said that the overall temperature in Pakistan in March 2022 was five degrees Celsius higher than normal.
Also Read: Climate Change's adverse effects on Pakistan
"In 30 years, the overall average temperature during March is 26 degrees Celsius, which increased by five degrees to 31 degrees Celsius in 2022, and this time; too, the temperature will remain above 26 degrees Celsius in March."
In the year 2022, there have been a large number of financial and human losses due to floods in most areas of Khyber Pakhtunkhwa.
According to the United Nations, Pakistan is among the top ten countries in the world affected by climate change.
In November, last year, co-chairing the UN Climate Summit (COP27) in Sharm El-Sheik, Egypt, Prime Minister Shahbaz Sharif informed the world leaders the floods that year cost his nation more than $30 billion in damages.
Hits: 11