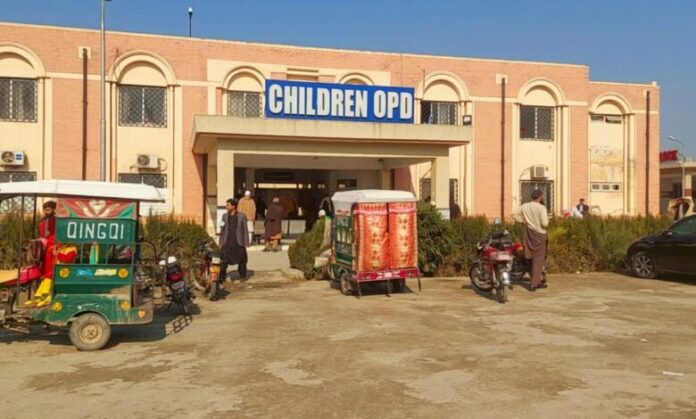 Anis Takar
A large number of children in the flood affected areas of Charsadda district have contracted pneumonia and parents are struggling to treat them.
Hasbanullah, a resident of Doaba told TNN that his four years old son developed fever and cough. Besides, he said that the child was also suffering from chest congestion and seizures. Hasbanullah said that he took his kid of the children hospital Rajar for treatment, where doctors were currently treating the sick child. "Treatment was good at this hospital though a bit slower," he said.
Similarly, Ahmed Ali, another child is admitted to hospital for treatment of pneumonia. His family members said that pneumonia cases have increased in the area following the floods. "Doctors are treating the sick child quite well, but we have to pay for medicines," a family member said.
DHQ Charsadda reports 1500 pneumonia cases since August
Dr Hameed Gul, a doctor at the Children Hospital Rajar said that the pneumonia was the inflammation of lungs'a air-sacs. He said that anyone could develop pneumonia; however, children up to five years of age at great risk to it.
Dr Hameed said that pneumonia is usually treated with antibiotics to control the growth of the bacteria. Besides, he said that sometimes children could also require oxygen.
He said that main reason for the pneumonia outbreak included sanitation issues, pollution and bacteria and viruses. He said that the pneumonia cases have increased many fold after the floods. Dr Hameed said that in ratio of viruses and bacteria increased in the aftermath of floods. He said that to avoid pneumonia, children should be kept from cold and proper care of cleanliness should also be ensured. Besides, he said that vaccination could help in saving kids from pneumonia. "Pneumonia risk increased by 70 to 80pc among unvaccinated children," he said.
Dr Hayat, spokesperson of district headquarters hospital Charsaddda said that following the floods about 1500 children have developed pneumonia. He said that since August they have reported 2660 cases of chest infections in October alone. Besides, he said that in November 2430 cases reported in November, 1046 in December and 236 in January.
However, he said that installation of water filtration plants could help address this issue.
Hits: 10