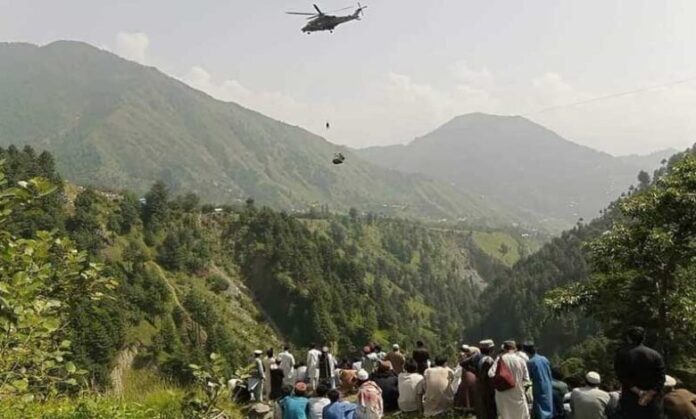 Nabi Jan Orakzai
In the Tehsil Allai of Battagram district in Khyber Pakhtunkhwa, the proprietor and operator of a chairlift were apprehended by the police after an incident that occurred yesterday.
According to DIG Hazara Division Tahir Ayub, a 'doli' lift was left suspended in the air due to a broken rope on a chairlift in Battagram. Subsequently, a case was registered against the chairlift owner, Gul Zareen, and the operator, Ijaz, at the Alai police station, encompassing five charges of negligence.
Preceding this event, the Allai police temporarily shut down all chairlifts across the district. Alai Deputy Superintendent of Police Muhammad Nazir informed TNN that notices had been issued to all chairlift owners a month prior, instructing them to provide chairlift NOCs, fitness certifications, and related information to the local police station.
Also Read: Shocking Surge in Electricity Bills After IMF Deal
Nazir Khan mentioned that Gul Zareen, the chairlift owner involved in the incident, had not responded to the police notice, paving the way for impending legal action. He stated that permanent closure of the chairlift was not feasible, as it serves as the sole means of transportation in the area.
The district administration intends to reinstate the chairlifts once comprehensive safety measures are implemented and NOCs are issued.
Voices of Concerned Parents
Syed Faheem Jalali, an uncle of one of the students trapped on the chairlift, recounted the distress experienced by parents upon learning that their children were stranded from 7:30 in the morning until midnight.
The parents were left feeling helpless as they awaited news of the operation's success and the safe return of the children. Jalali extended gratitude to those who participated in the rescue and appealed to the government for the enhancement of the local road infrastructure to prevent such incidents from recurring.
Individuals Trapped in the Chairlift
Conversations with local individuals revealed that among the eight people caught in the chairlift, seven were students and one was a shopkeeper named Gul Faraz. The students, who were on their way from Chengarai village to Batangi school, found themselves in the midst of this accident.
Contrary to some media reports labeling him a teacher, Gul Faraz is a courageous shopkeeper who provided reassurance to the trapped students and maintained ongoing communication with the media regarding the situation.
Recalling the events of the previous day, the chairlift was left suspended due to the snapping of two out of three cables in the Tehsil Allai of Battagram district. Eight individuals were trapped in the ordeal and were successfully rescued.
Hits: 16